Trendy Techwear style, is it the resurgence of cyberpunk or pragmatism?
Jul 14, 2021
·
by Techwear Club
A few years ago, "Techwear" was still a style description that was only popular in the cultural circles of the influx of people. Nowadays, it can be easily seen in high fashion, especially for some old fashions that position high fashion. Realizing market-recognized innovation based on the integration of two styles with very different textures and high luxury seems to be a compulsory course that cannot be bypassed at present.
What is Techwear style?
There are different opinions on the definition of Techwear, and there is no rigorous and authoritative unified answer. As for the styling instruction, there are many different kinds. The origin of Techwear can be traced back to the ninjas of the Warring States period in Japan. Because of the combat needs at that time, the ninjas needed to set up pockets for items everywhere. Similarities can be found from the well-known Techwear style brands ACRONYM, NikeLab ACG, and Stone Island.
Since its evolution, tactical techwear vests, safety buckle belts, or dark assault jackets have all become popular techwear clothes of today's trendy people. These popular items have a tough, cold, mechanical appearance, and these characteristics all point to a kind of science fiction. The futuristic dystopian aesthetic style of sense and practical functionality-Cyberpunk.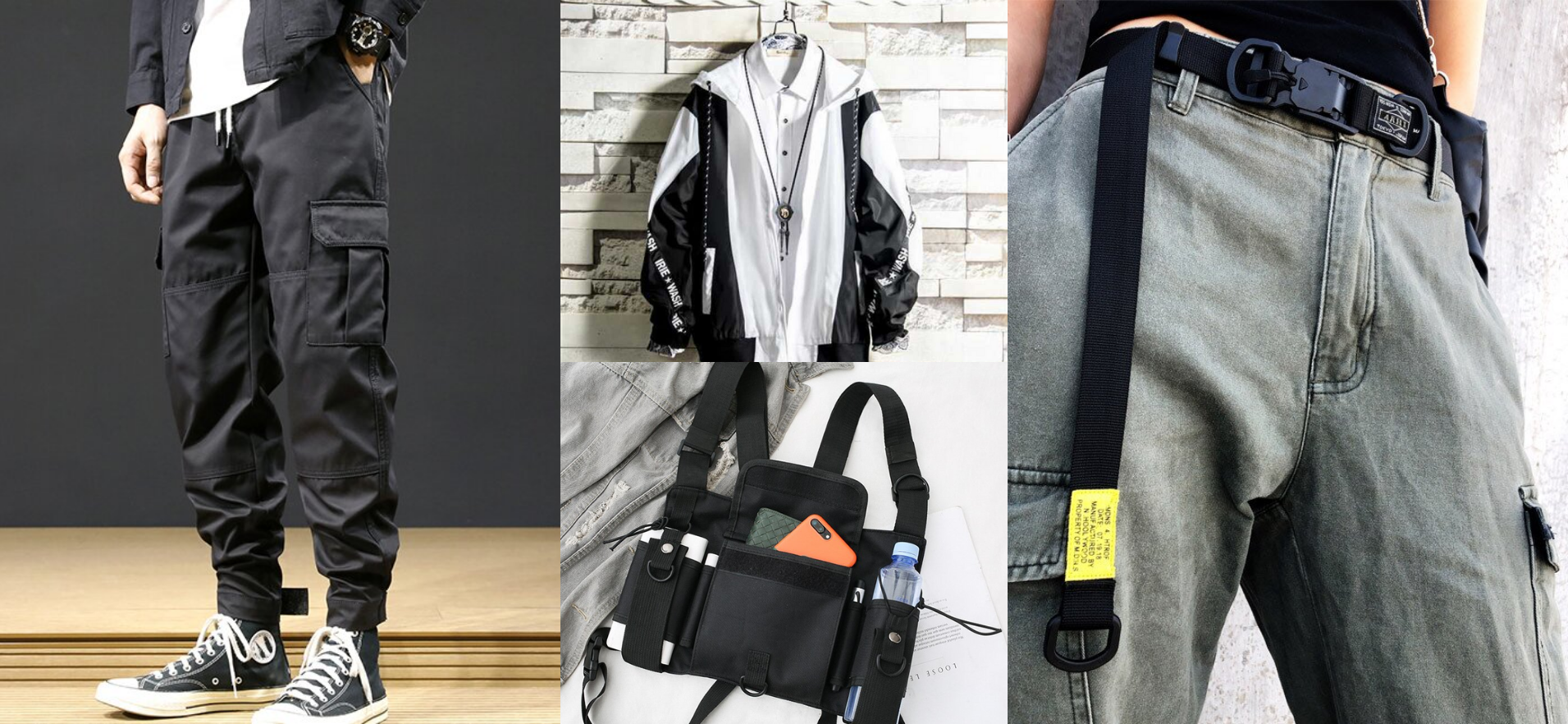 The first chapter of the Y-3 2021 spring and summer series "Tsuyu" series is specially designed to cope with rainy cities, inheriting Y-3's consistent style, reshaping functional aesthetics through a unique avant-garde concept, and using Y-3 advanced technology, Explore the endless possibilities of ever-changing cities.
Therefore, hidden in these retro-futuristic designs are the formulas that young people are unaware of but are very familiar with. This may explain why the retro-futuristic techwear style is becoming more and more popular, and the fashion wheels are here. As if stuck, more and more designers and brands began to add cyberpunk elements to the series. This time, creative executives and market customers encountered an outbreak of emotional resonance.
The retro-future we mentioned is based on the current point in time, a superficial summary of the cyberpunk style of science fiction in the 1980s and 1990s. This behavior is actually quite post-cyberpunk. The science fiction writer Lawrence Person summarized this definition in 1998. After the initial cyberpunk wave in the 1980s and 1990s, all-new creative methods related to its core issues can be regarded as post-cyberpunk.
No matter what kind of explanation it is rooted in, this wave of Techwear style in the ascendant is always a re-interpretation of cyberpunk's deconstruction and recombination. What is really retro? What is the true future?
It is worth noting that the retro-future of the post-cyberpunk era does not simply copy and restore the sense of science fiction from the perspective of the 1990s. Brands and creative directors with innovative attitudes are deeply searching for a foothold between the retro cultural wave and the gap between reality, using fashion as a carrier to attract jade, and try to enlighten viewers to think deeply about themselves and the disciplined society, real people and the network The cognition composition of the virtual and the reality is indistinguishable between the systems, and the Balenciaga 2022 Spring/Summer series conference, which caused heated discussion on social media not long ago, can be said to be such a pioneering experiment.
Balenciaga 2022 Spring/Summer Collection Conference
In this fashion conference with the theme of "cloning", Demna Gvasalia presented a cyberpunk experience that resembles the reappearance of "The Matrix", and discussed the uneasy thinking about the reality brought by technological lenses.
We look at this world through the filter lens-beautified, modified, homogenized, PS, we can not be unedited and modified, true and forged, substantive and conceptual, fact and fiction forged Interpretation between appropriation and appropriation. Technology has created another reality and identity, a world of digital cloning.
Our current era is more and more like the future world depicted in cyberpunk works. The ubiquitous information penetration and the rapid acceleration of the entire society push everything forward in a flexible and complex direction.
Techwear, as a multifunctional style, has a diversified advantage that meets the needs of this era. It is a pragmatic attitude that transcends the limitations of the field. When it is combined with cyberpunk and futuristic aesthetics of science and technology, it is naturally reasonable that it can become fashionable and practical.