Trendy Techwear Shirt & Japanese Shirt
Sep 10, 2021
·
by Techwear Club
Urban techwear clothing is functional and versatile to reflect modern lifestyles. Our collection of techwear shirts includes many models inspired by the different darkwear aesthetic styles: Gothic, Harajuku, Urban ninja, and other subcultures. Such as Japanese shirts inspired by cyberpunk and Japanese culture. Techwear shirt, made of technical materials, is not only a stylish garment but also a practical and comfortable option. In this article, we will be taking a look at some techwear shirts that are worth buying.
How To choose A Techwear Shirt
The first point is the material. Different materials have different features. When it comes to techwear clothing fabrics, the most well-known one is GORE-TEX®. GORE-TEX® has an excellent performance in terms of waterproof, windproof, and abrasion resistance. Except for being a little bit expensive, GORE-TEX® is no doubt that the most ideal choice. For alternatives, cotton is generally the most comfortable and breathable option. Polyester has excellent moisture-wicking and anti-wrinkle performance.
The tailoring cutting and design are also important in a tee's performance properties. The tight-fit cutting shows off a thin and fit body while the loose-fit cutting can conceal the morphology, which is more preferred by most people. Those who are addict to Japanese and Korean fashion maybe will choose our techwear shirts printed with kanji and other Asian symbols. While the goth fans will turn to goth t-shirts that are printed with graffiti, skull, and metal elements, etc.
T-shirt is an all-matching inner layer that can be combined with any style and brings a layering touch to your look. You can also wear your shirts under a techwear vest or a techwear jacket for a cool urban ninja look. Picking a fitting design shirt is a great way to show off your personalized style and taste.
Recommend Dark Aesthetic Shirts
Techwear is generally a dark color garment in mind. However, with this niche aesthetic be accepted by more and more people, techwear has become more and more diversified. Minimalist Techwear is trendy as well as Japanese techwear. These black aesthetic clothes are characterized by Urban techwear fashion. These dark aesthetic shirts are designed specifically for those who have interested in wearing a style that is made to stand out while still keeping up the techwear style. Take a look below for some examples of techwear clothing.

If you are searching for an all-matching t-shirt for the summer wardrobe, you may like this Fake Two-piece T-shirt made of soft and breathable cotton. Thanks to its unique contrast color and ripped design, this round-neck t-shirt is not only a comfortable garment but also a personalized option that can bring you a layering touch. Available in over four colors, you can get the colors such as blue, gray, or classic black and white.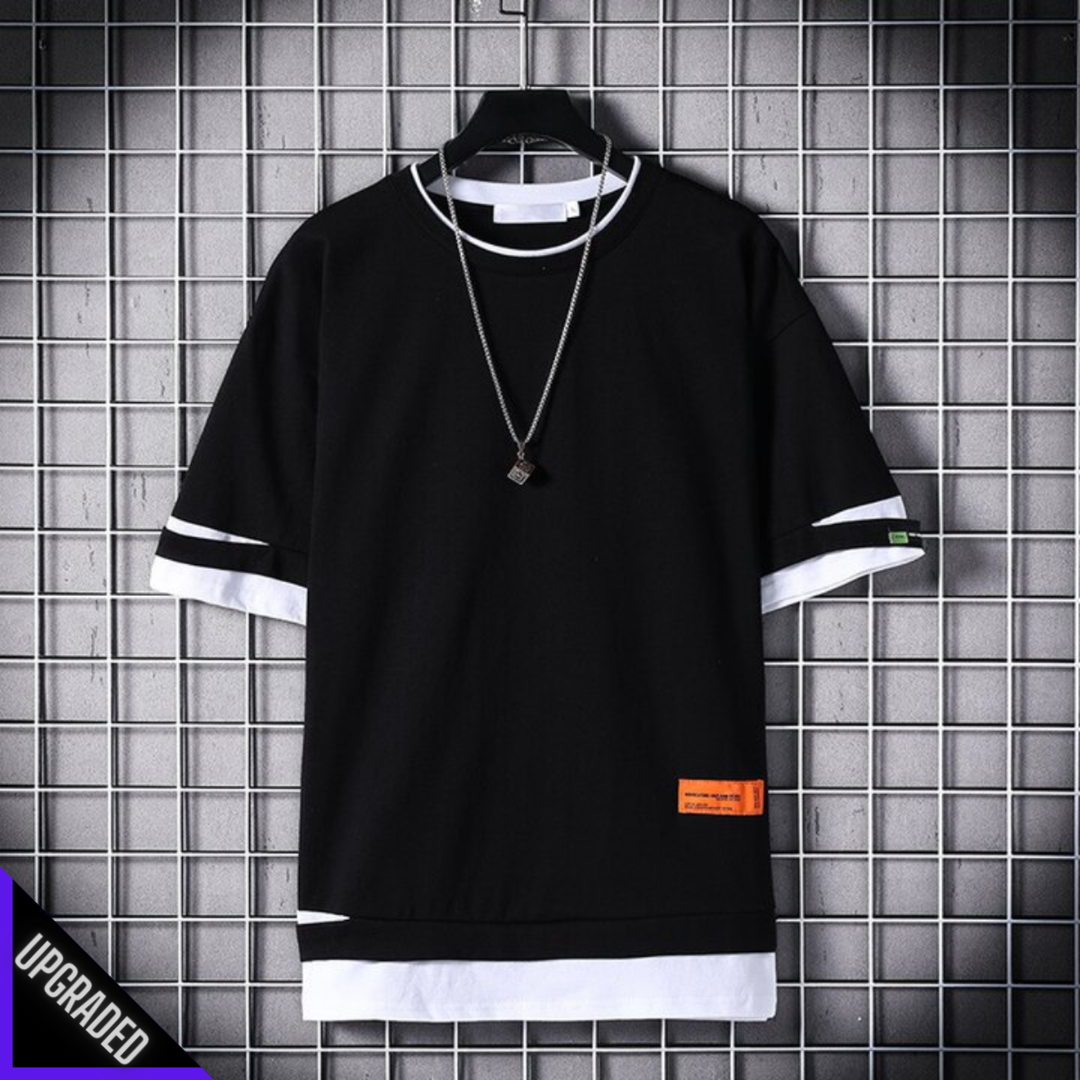 This long-sleeved sweatshirt is recommended for pre-fall. Similar to the previous one, this fake two-piece sweatshirt also features a ripped design. Try something different without spending the world with this hip-hop two-piece t-shirt.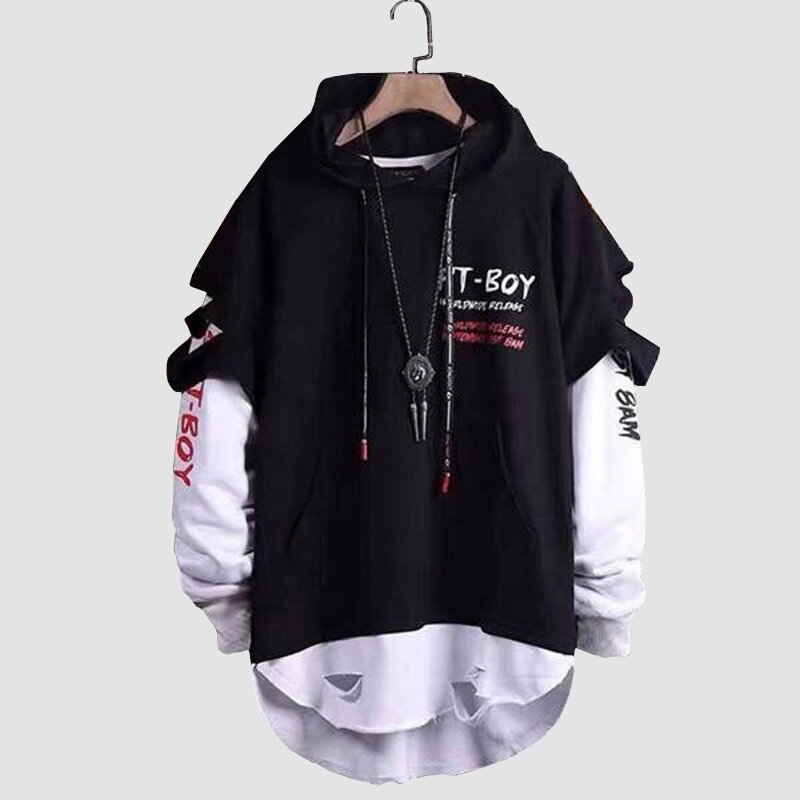 Don't miss this smiley t-shirt with a round neckline and reflective pattern. This reflective t-shirt is printed with smiley devil patterns both on the front and on the back. The unique reflective smiley can be visible at night. Complete your urban techwear wardrobe with the reflective t-shirt for an underground and futuristic look.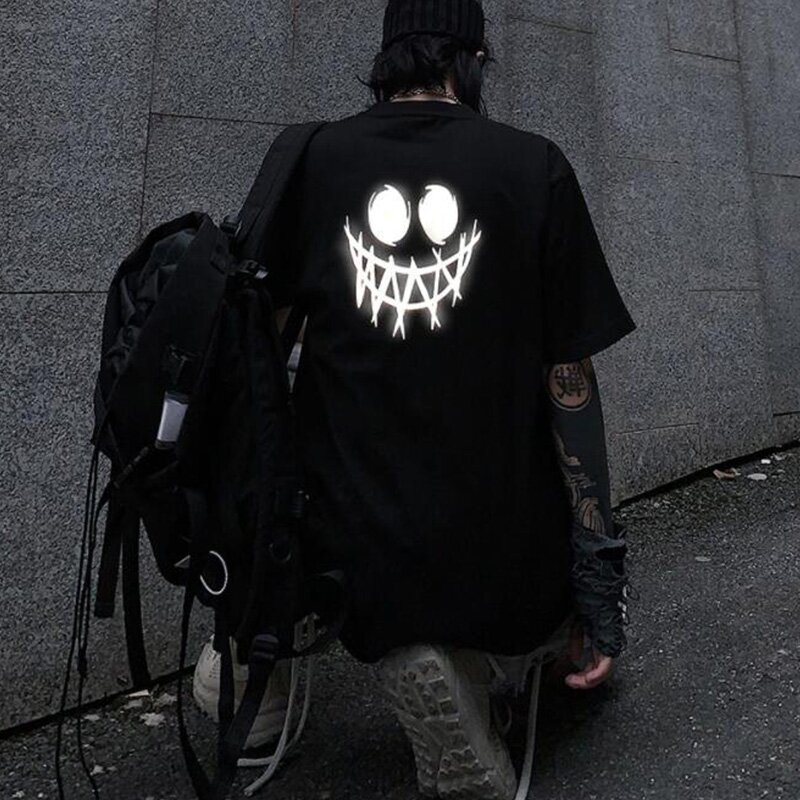 This techwear t-shirt inspired by Japanese fashion is also on our list. With high-end tailoring for a premium comfortable casual style, this cotton t-shirt with a kanji and pigeon graphic on the back can add a complete touch to an Asian-inspired look. This Japanese techwear shirt is not only a unique and cool style but also can keep your movement free. Thanks to its exquisite and lightweight materials and at the cutting edge of techwear aesthetic, this Japanese t-shirt is an ideal option for your summer techwear wardrobe.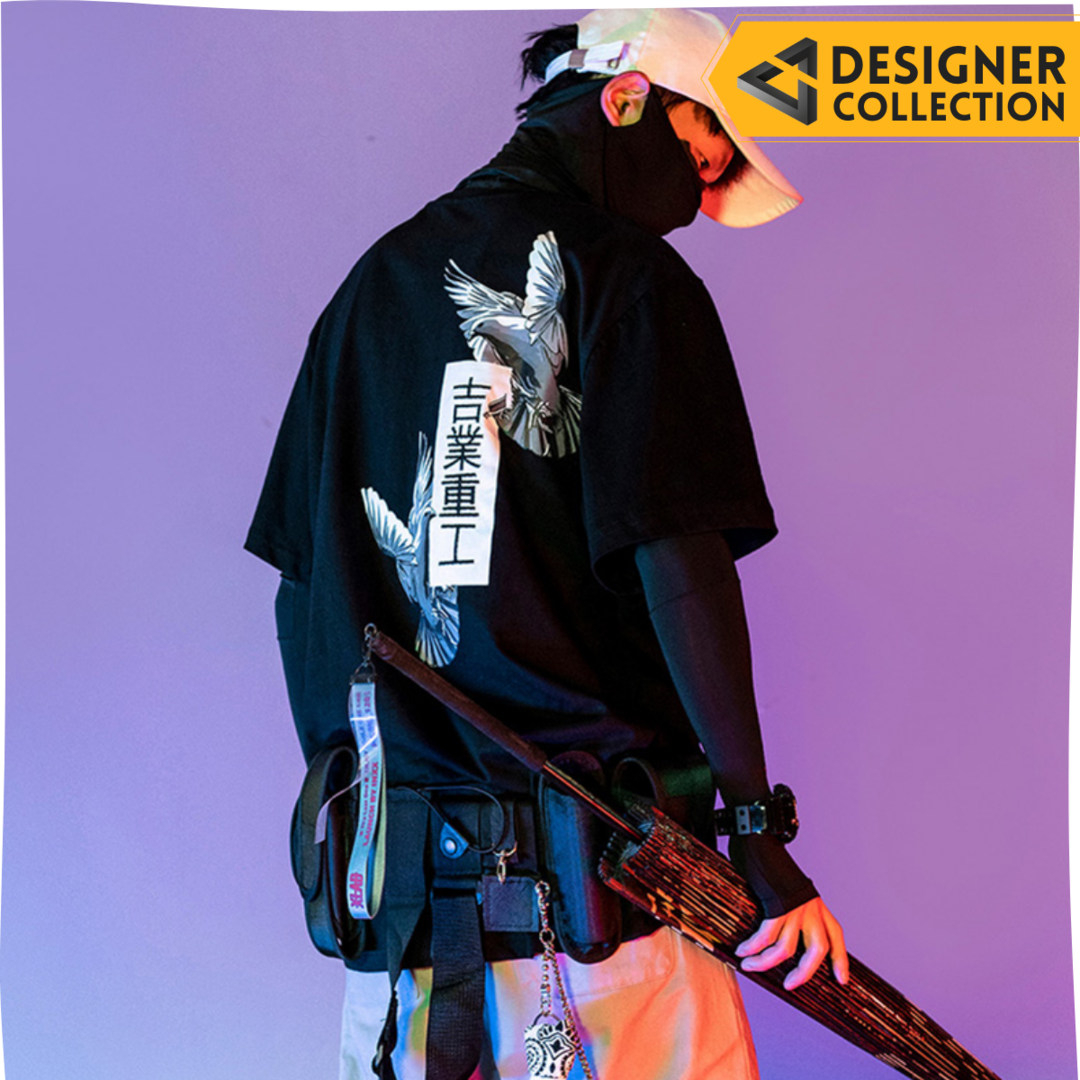 Comming is a similar Japanese graphic tee with unique Asian symbols that can make your look can not be ignored. Printed with an eye-catching crane and wave graphic on the back, this graphic kanji t-shirt is ideal for summer as well as winter under a jacket or windbreaker.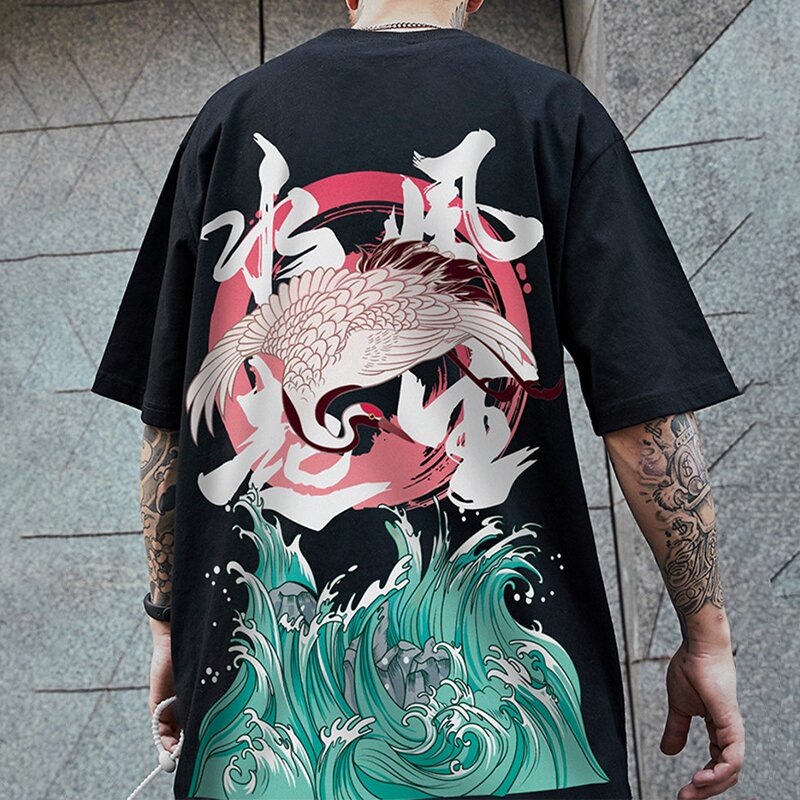 The final piece is this cyberpunk t-shirt equipped with long streamers. Its long straps are inspired by the techwear and cyberpunk universe. This futuristic rapper shirt is an ideal t-shirt to complement with techwear shorts and techwear boots for a futuristic style.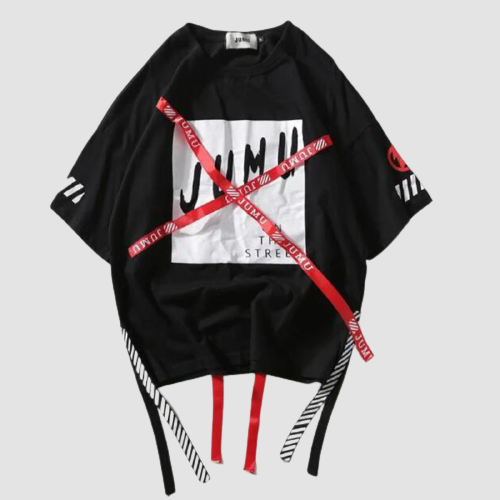 For an urban techwear style in the summertime, if you're more into the goth ninja look, a gothic t-shirt with gothic or grunge elements will add a cool and mysterious touch to your style. If you're looking for practical technical clothing, choose a cyberpunk t-shirt combine with a pair of tactical shorts is an ideal option to add a futuristic touch to your style.