Top 5 Cheap Techwear Jackets
Sep 09, 2021
·
by Techwear Club
Techwear Jacket or windbreaker, a practical garment, is generally made of high-technical materials for the ultimate functionality. Thanks to its functional and exquisite fabrics, the techwear windbreaker is an ideal out-layer that is suitable for spring, autumn, and winter. Techwear jacket is commonly lightweight and can be easily carried around when the weather brightens up.
Hardshell vs Softshell Jacket
A softshell jacket is more flexible than a hardshell jacket while protecting you from bad weather. Softshell jackets are often made of a softer fabric, such as polyester and nylon, and can serve as a mid-layer under a hardshell jacket while it can serve as an out-layer alone.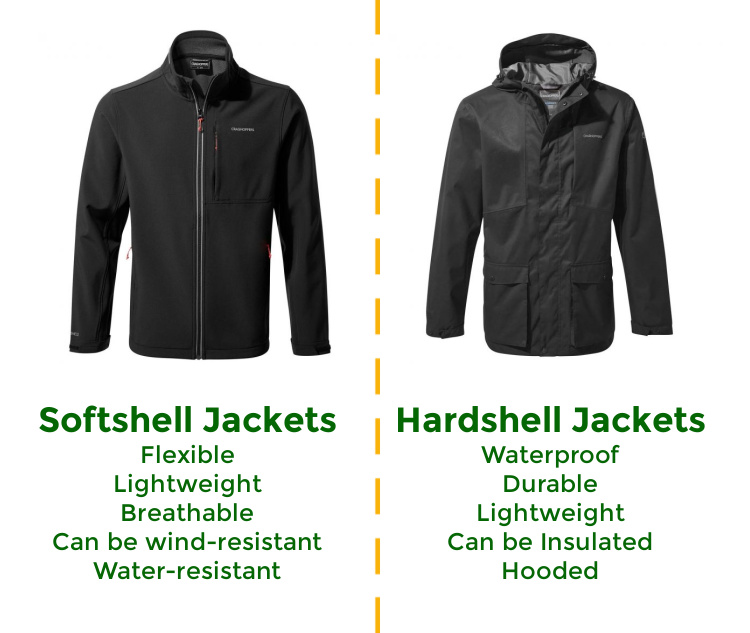 Techwear is futuristic and practical clothing, commonly in a dark aesthetic. Known for its multiple pockets, high-tech fabrics, and functionality, more and more young are addicted to this urban techwear style. Nowadays the minimalist techwear fashion is becoming a trending style. Following I will share with you the most classic techwear jacket for me and 5 affordable alternative options.
Classic ACRONYM Evolution Techwear Jacket
When it comes to "Techwear", I think the word "Acronym" will appear in everyone's mind. The ACRONYM Evolution techwear jacket maximizes performance in outdoor activities thanks to its innovative and high-end design. Made with a breathable 3L GORE-TEX PRO fabric, this jacket has the perfect mix of improved range of motion and airflow needed to go the extra mile. The jacket's stylish design represents ACRONYM, one of the best techwear brands today, and is no doubt a status symbol in terms of fashion and performance.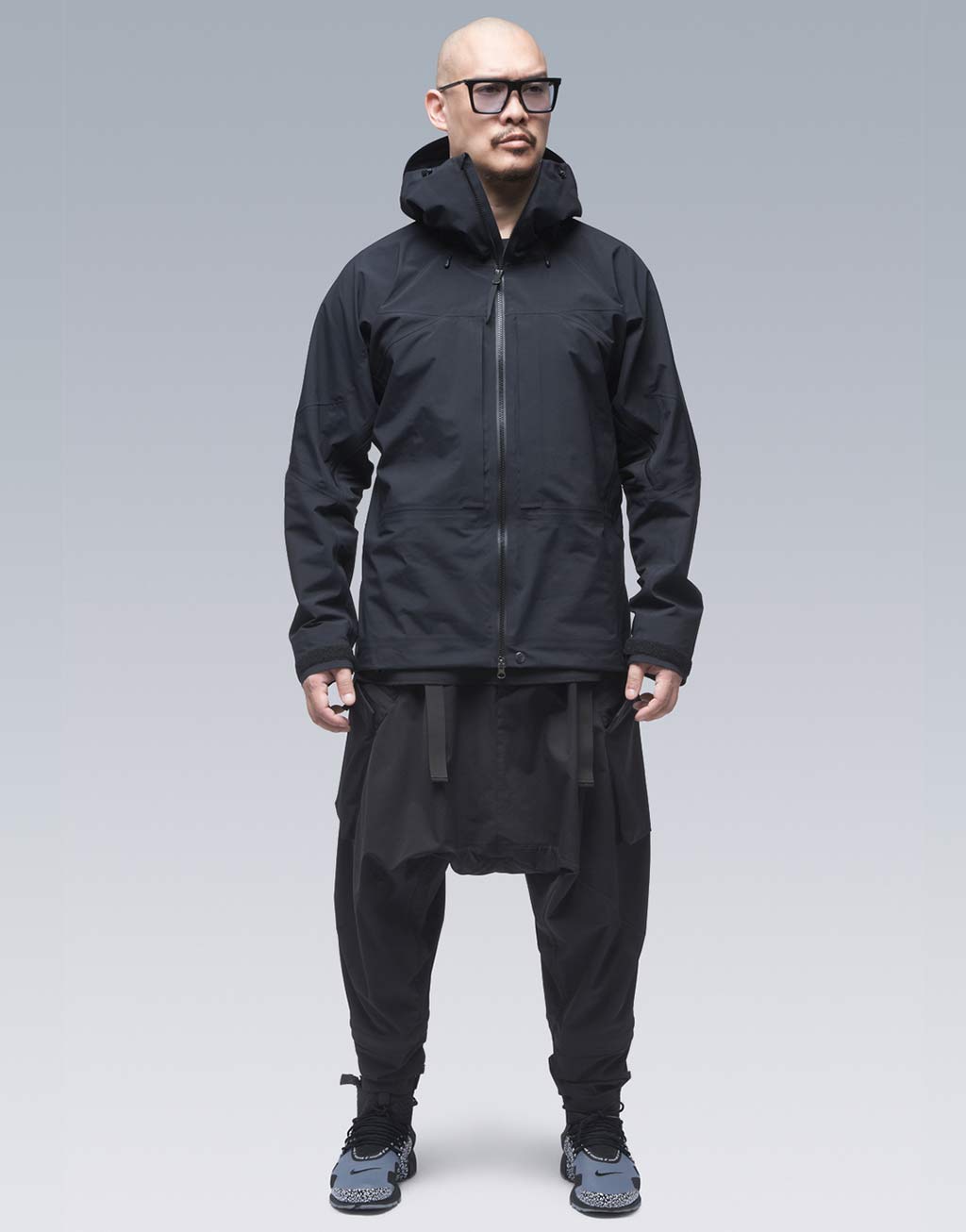 Top 5 Cheap Techwear Jackets
The techwear windbreaker is not only a practical garment but also adds style to one's look. Following I will recommend you some affordable tech wear jackets that are worth buying and be a trendsetter of techwear style.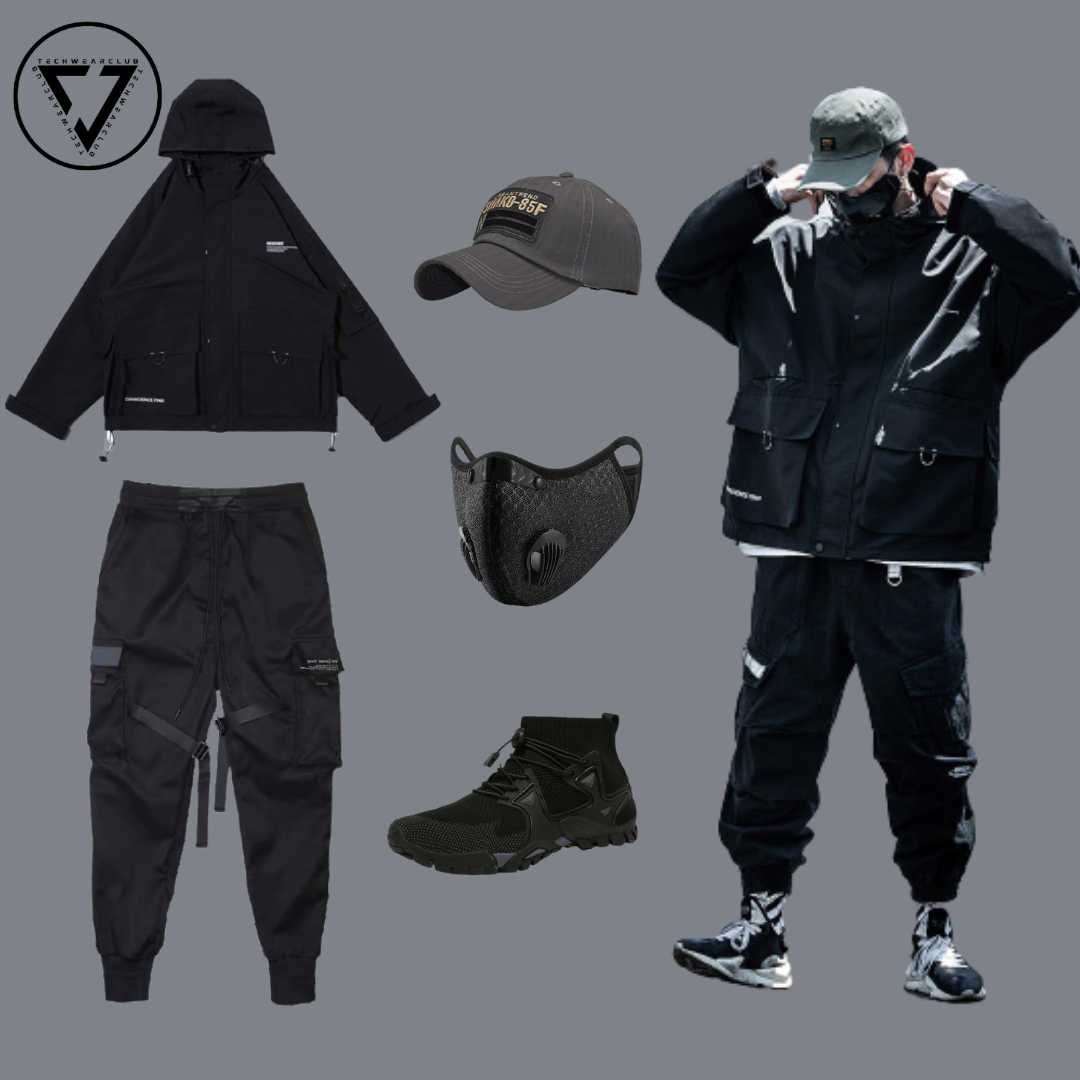 One of our top picks is this tech wear jacket with straps and buckles. It is a rain jacket that protects mainly from water. This techwear jacket is not only a garment to dress up with dark aesthetic style but also available to protect you against the wind, the rain, or the cold weather. It is an essential tactical jacket that perfectly combines style and functionality. Features with three pockets on the front, this black techwear jacket has a larger capacity to carry all your belongings. Available in 2 colors, you can get jacket colors such as khaki or black.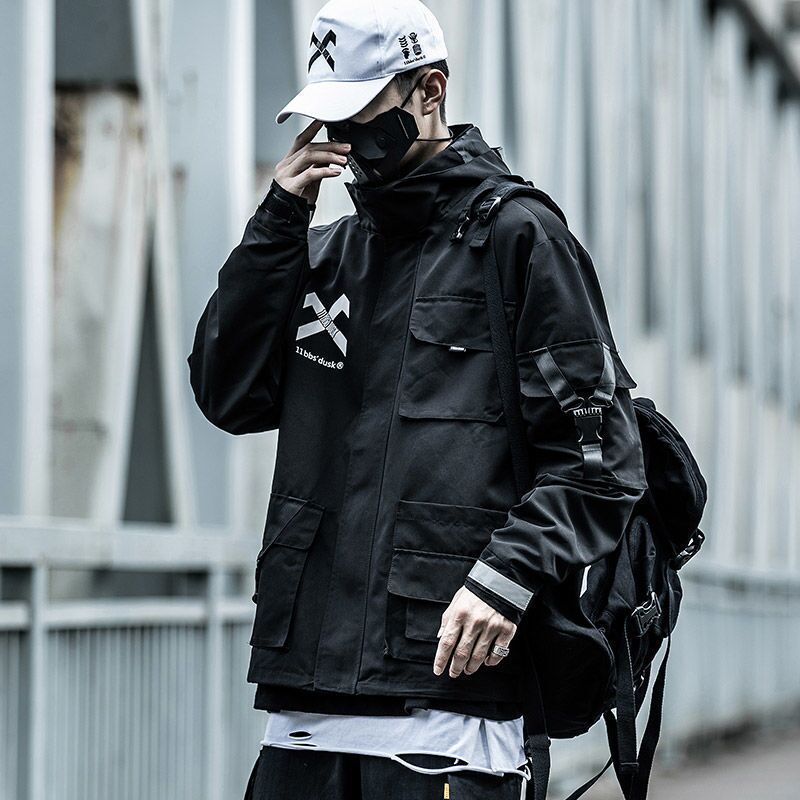 This windproof tactical cloak that made of durable and lightweight technical materials. This techwear poncho is portable and convenient to carry or put on. Equipped with a high collar, this cool tactical cloak, inspired by cyberpunk fashion, can protect you from the wind. It is a perfect softshell for autumn days and an ideal option to create an urban ninja style.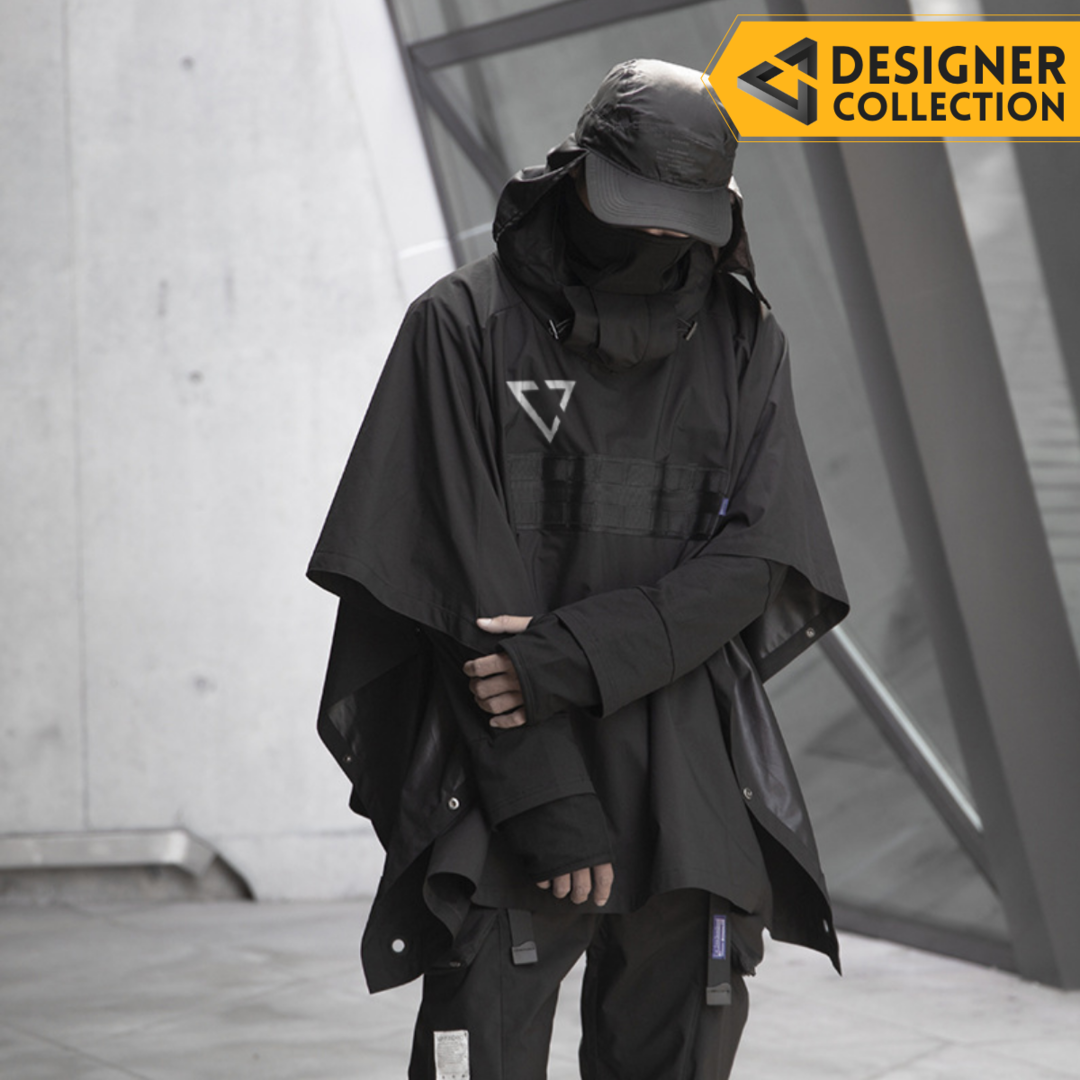 The third on our list is this multiple-pocket jacket. This cargo jacket for men is not only a garment to dress up with techwear style, it is especially practical to protect you against the wind, the rain, and the cooldown of autumn. This piece of black cargo jacket is that perfectly combines Techwear style and Japanese street fashion. Crafted from premium lightweight materials, this tech jacket can also bring a good wearing experience for you. It has two big pockets on the front, that can easily carry your phone, wallet, and other small items. This darkwear jacket is an ideal option to complete your Asian techwear style with futuristic and functionality.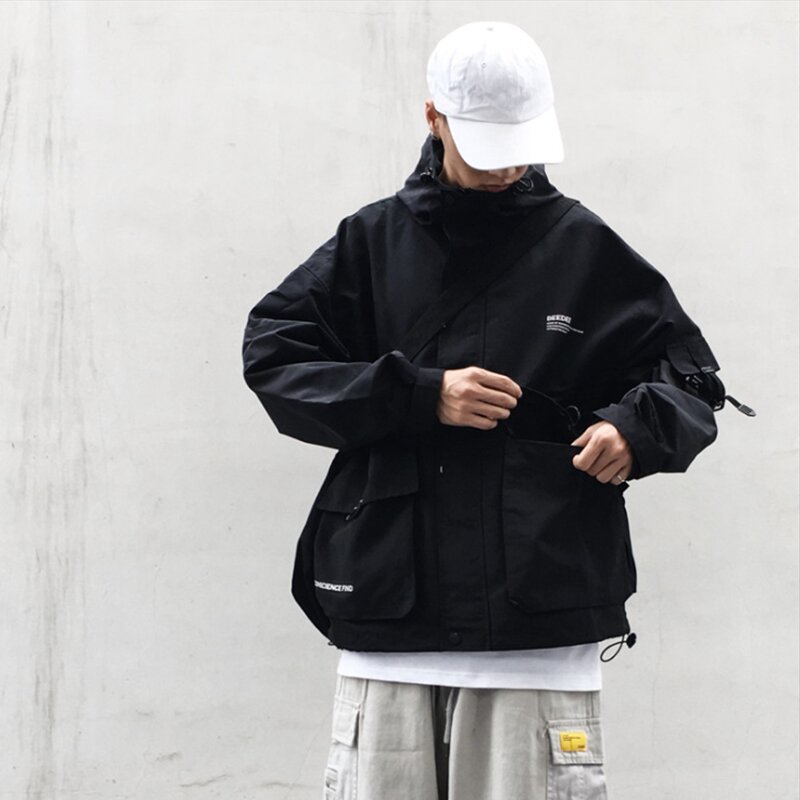 This techwear windbreaker is made of premium windproof and durable cotton and polyester blend, attach with an elastic drawstring hood this long-sleeved jacket is suitable for autumn and winter. Feature with a larger capacity kangaroo pocket on the front, and a conspicuous oranger pocket on one sleeve, this techwear jacket with straps is both practical and futuristic.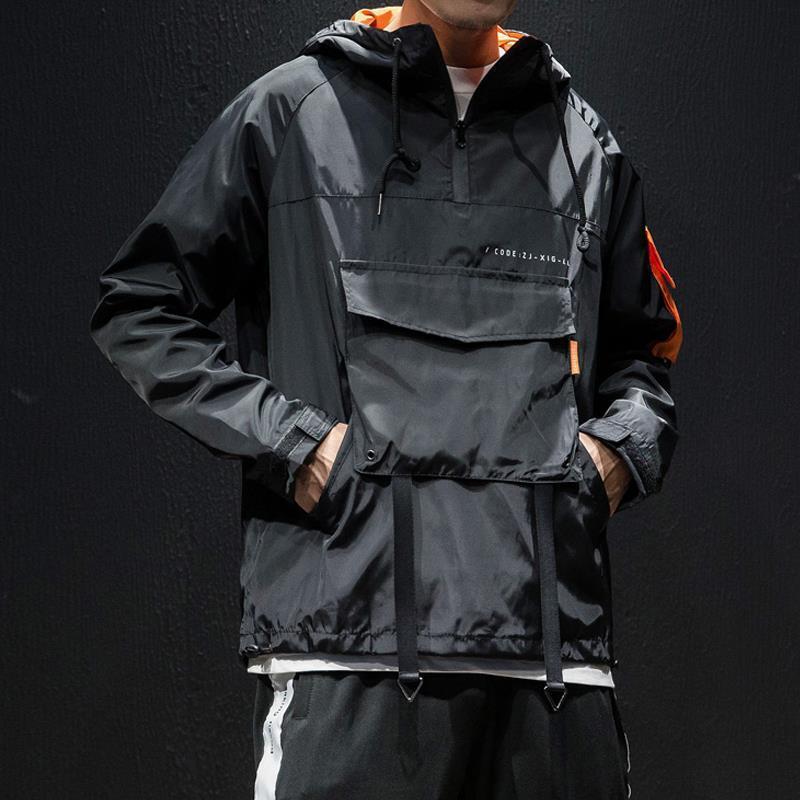 This Futuristic Jackets combines with British fashion and cool cyberpunk culture, is crafted from high-tech waterproof fabrics, can support you to face the bad weather. With a high collar design, this techwear jacket is also windproof. Features with a sleek design with two reflective writings on the front, add a futuristic touch to your street look. It is an ideal choice to level up your techwear wardrobe. The techwear coat also features multiple storage pockets both on the front and back. It's a unique and practical techwear jacket that is suitable for autumn, winter, and spring.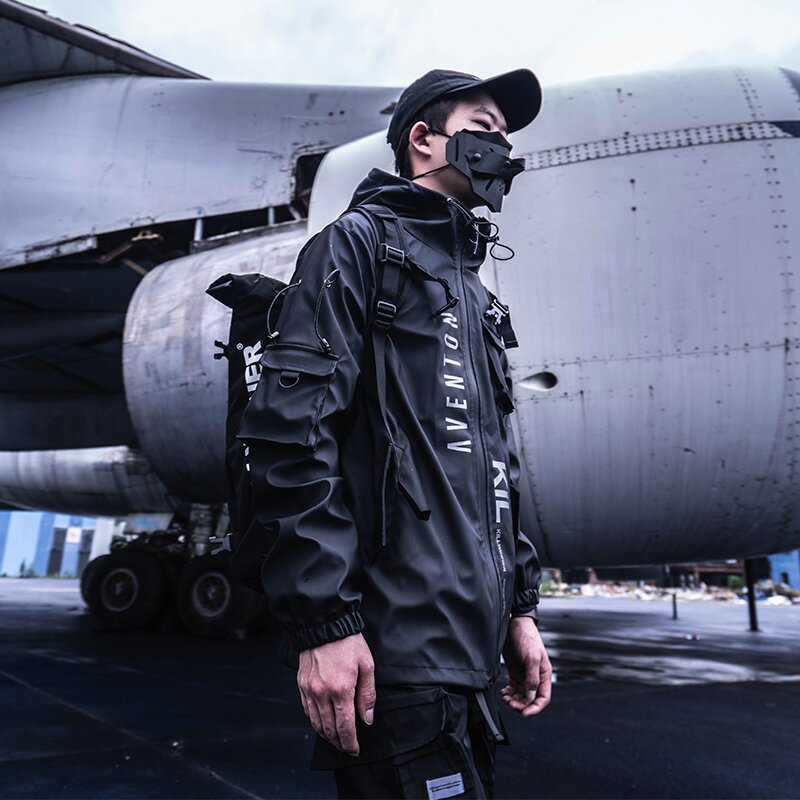 If you like this design and functional jacket, you can also take a look at our Techwear Jacket that is both cool and practical that can not double that enhance your urban techwear style!
Our selection offers all of the above, we hope you've enjoyed our selection of the cheap techwear jackets!