Techwear VS Darkwear VS Warcore
Sep 23, 2021
·
by Techwear Club
Techwear VS Streetwear
What is techwear fashion? Techwear fashion is an increasingly growing fashion trend worldwide to a range of individuals such as security forces, athletes, cosplayers, and those who are addict to Cyber fashion and futuristic outfits. Techwear is futuristic clothing for daily life with avant-garde fabric, construction, and properties that allow for breathability, movement, waterproof, heat-insulation, and other features. The combination of functional fabrics and practical features with an urban futuristic touch is what makes techwear so hot. Tech wear is more than a tee or a jacket with extra pockets. Techwear fashion is inspired by mysterious Japanese ninja culture and futuristic Cyberpunk fashion.
Techwear is similar to streetwear. But Tech wear is often worn in all black or dark colors, more trend to the black aesthetic, while incorporating different types of accessories. A classic Techwear look involves practical techwear outfits and techwear accessories, such as techwear masks, cyber glasses, metal techwear jewelry, and so on. Techwear is more elaborate, functional and includes more accessories than streetwear clothing. Actually, tech wear is often a more dramatic and multi-functional version of streetwear. Streetwear was invented in the 1990s and has evolved into more urban style branches since then. So, I think that techwear is a branch of streetwear.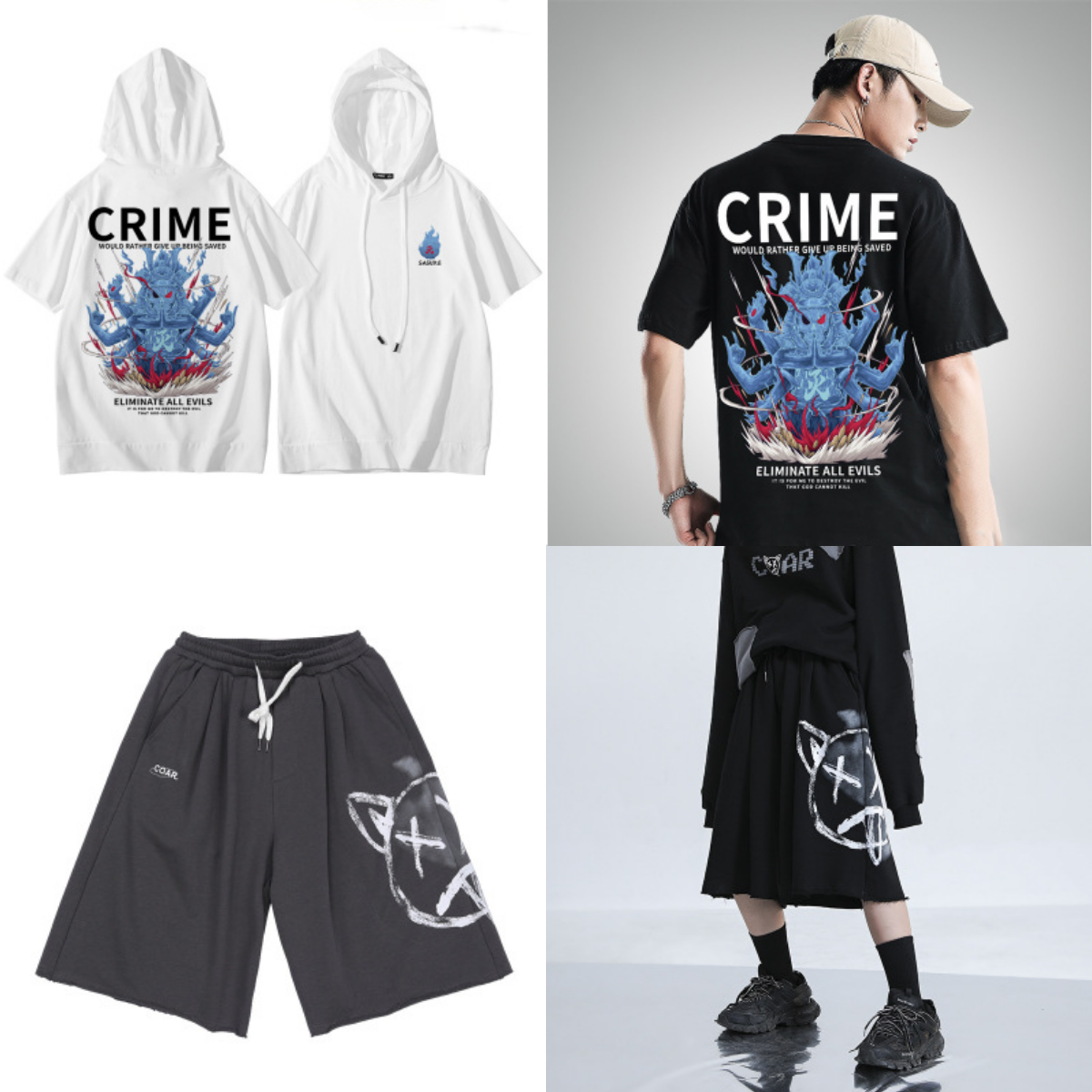 Darkwear VS Techwear
Similar to Techwear, darkwear outfit is also a rising trend in high fashion and streetwear. Dark wear is an all-black outfit or garment in dark colors, and dark wear also has a mysterious touch. The most obvious difference is that techwear, as an avant-garde style, revolves more around functionality. Techwear focuses more on comfort, style, and practicality than normal dark wear. And nowadays, minimalistic Techwear is a growing trend while the goth outfit is often layer by layer.
Warcore VS Techwear
What is warcore? Warcore defines the military tactical element in fashion. Warcore is a rising trend in avant-garde fashion, a military code in tactical techwear.
What is the relation between techwear and warcore? A complete warcore look is often equipped with a gun holder bag and a bullet-proof tactical vest. The difference between techwear and warcore is that warcore more emphasizes military and combat elements, while techwear garment prefers more to functional and practical features to against to the bad weather. Techwear outfits are often in a dark color, while khaki and camouflage are often used in warcore fashion. Warcore could properly be defined as an extension of techwear.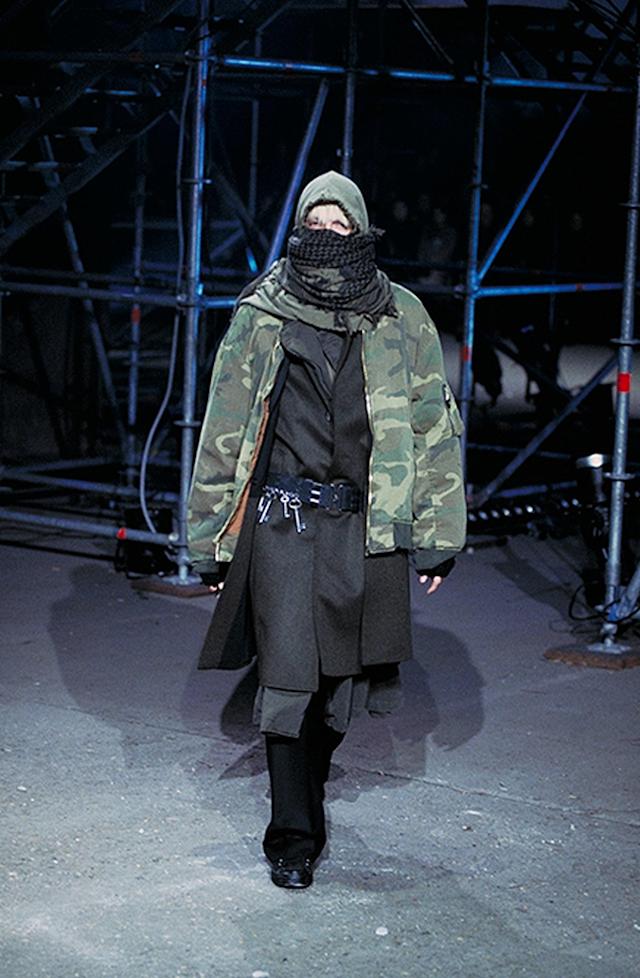 Here Is An Example Of A Techwear Look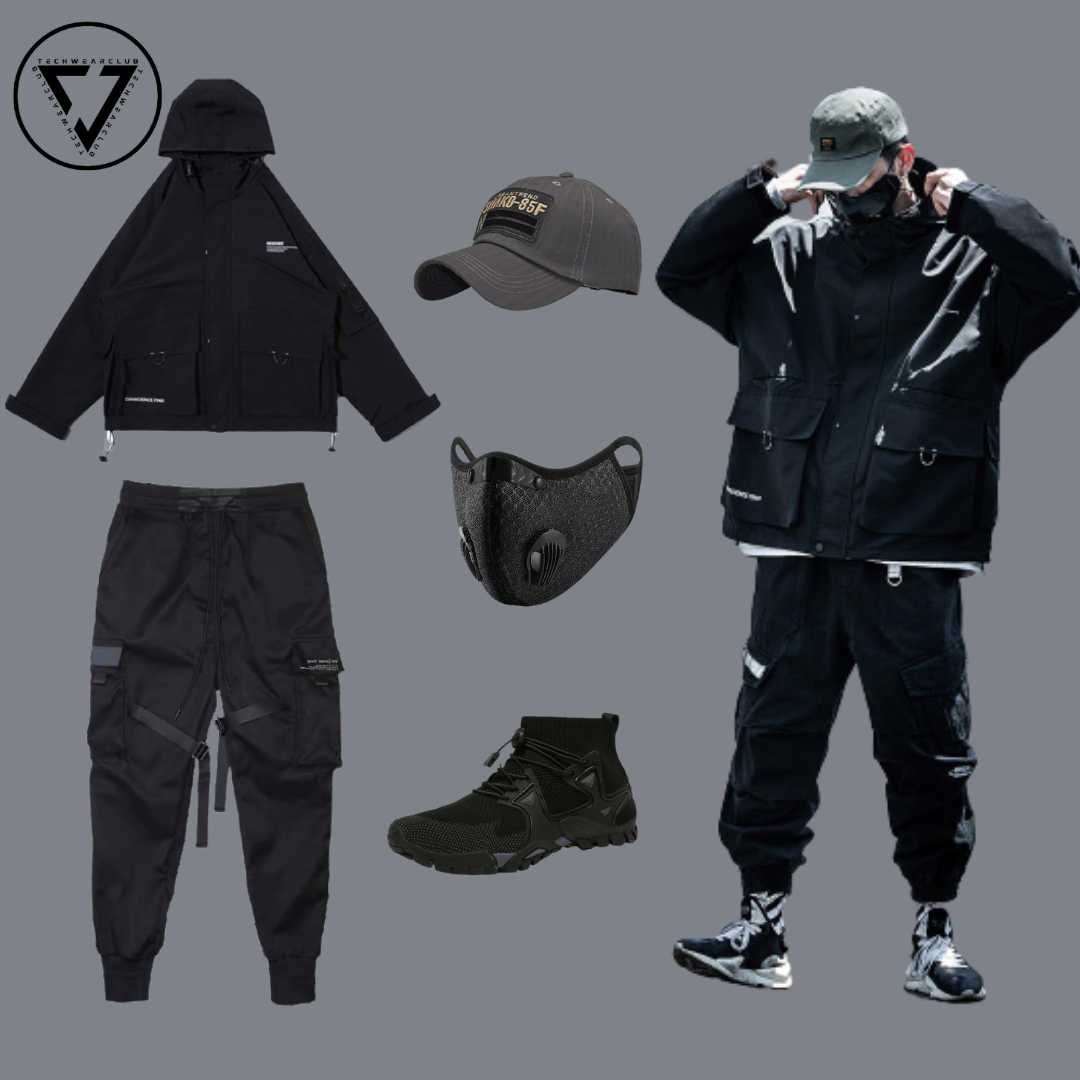 This set of techwear is not only crafted with ultra-light fabrics, but also fits all your movements, and truly "form follows function", eliminating all your worries during exercise. The design of techwear is based on ergonomics, to keep your comfort in an ideal state, without fear of any sudden challenges, and achieves truly "unobstructed". The unique futuristic and technological sense of techwear is not only reflected in the materials and wearing experience, but also the dark tones and harmony throughout the entire design, as well as the neat and capable tailoring. It also abandons the complex and redundant decoration visually. Adhered to the concept of minimalist techwear, let everything return to the design and functionality.
1. Techwear Jacket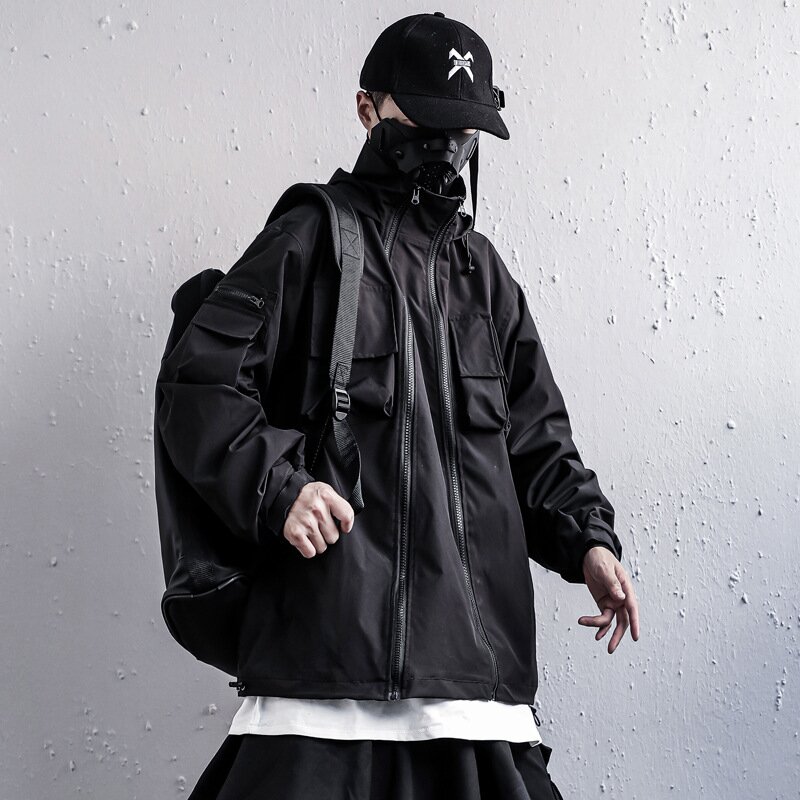 This cargo jacket for men is not only a garment to dress up with techwear style, it is especially useful to protect you against the wind, the rain, and the cooldown of autumn. This piece of black cargo jacket is that perfectly combines style and functionality. Crafted from premium lightweight materials, this techwear jacket can also bring a good wearing experience for you. It has two 3d pockets in the front, that can easily carry your phone and wallet and all your belongings. This dark-wear jacket is an ideal option to complete your techwear style with futuristic and functionality.
If you like this design and practical jacket, you may also be interested in our selection of Techwear Jackets! You can also check the Techwear Jacket collection to find the perfect hardshell or softshell you are searching for.
2. Techwear Cargo Pants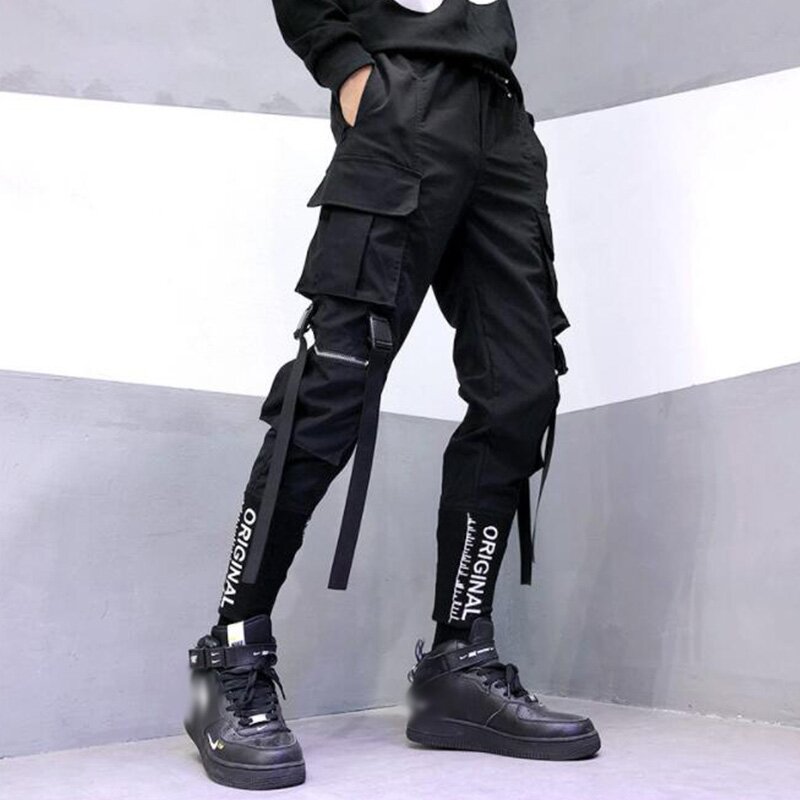 This pair of techwear joggers is very versatile with its two large pockets located at the front and back of the thigh. It also adapts perfectly to your morphology with its elastic drawstring waist. Made of high-end fabric that is soft and lightweight, this pair of techwear joggers are comfortable and durable. this pair of pants are a must-have and perfect chino to level up your style.
If you like this item, you may also like these ninja joggers inspired by Cyberpunk fashion and Japanese Street style. Explore trendy urban techwear styles with techwear pants, joggers, jeans, or cargo pants with our Techwear pants collection.
3. Embroidered Baseball Cap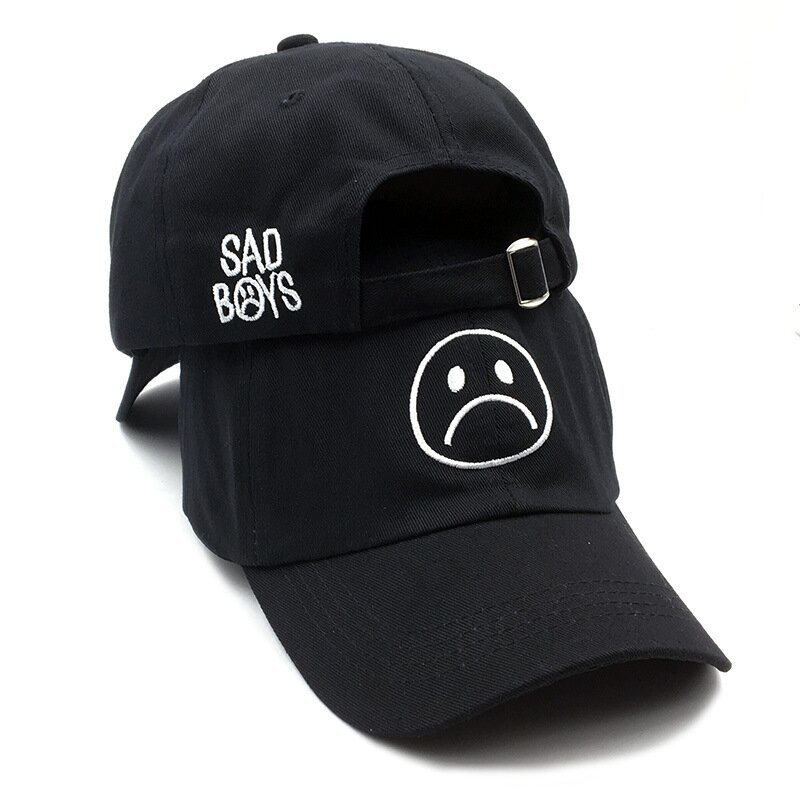 Add a complete touch to your look with this unique and adjustable baseball cap, crafted with premium breathable cotton, this cap can bring you a comfortable wearing experience in heat summer while against sunlight. Equipped with an elastic band this baseball cap adapts perfectly to your head size. It is an ideal cap at work and outside.
If you like this item, you can also enhance your style to the next level with our trendy hat collection, including a large choice of techwear cap, snapback cap, or baseball cap, and so on. Stay ahead of the curve with our urban hat, whenever in summer or winter.
4. Techwear Mask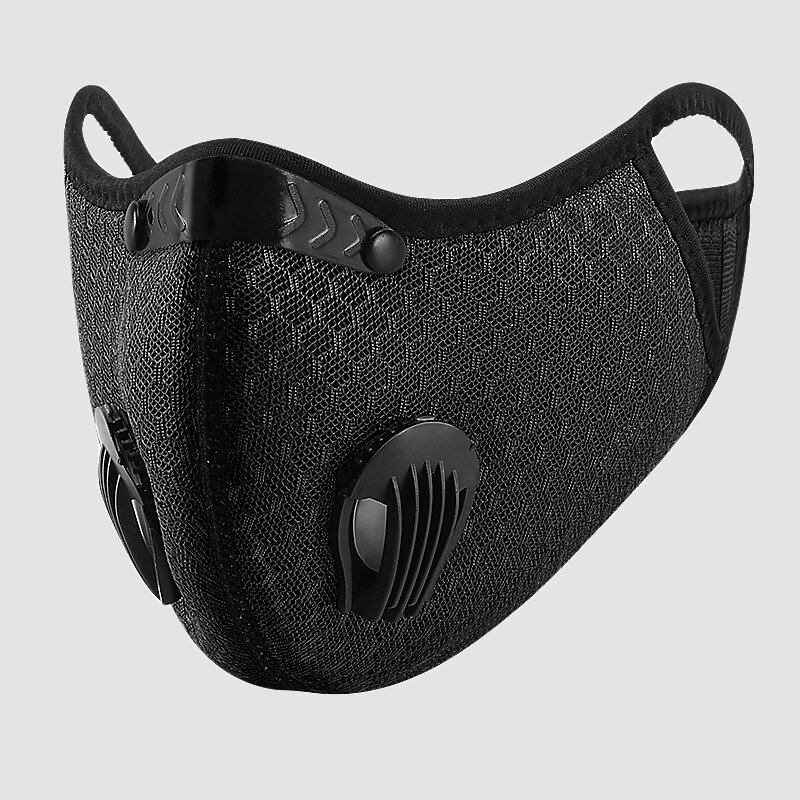 The anti-pollution mask is equipped with two valves that facilitate breathing while effectively filtering out unwanted particles and holding the anti-pollution filter in place. This techwear mask adjusts easily thanks to the velcro at the back that can fit most head sizes, and it's both suitable for men and women.
If you are searching for techwear masks keep your face protected while bringing a futuristic and technology touch to your style. Check out the techwear masks collection and take your cyber style to the next level and finalize your techwear look.
5. Techwear Sneakers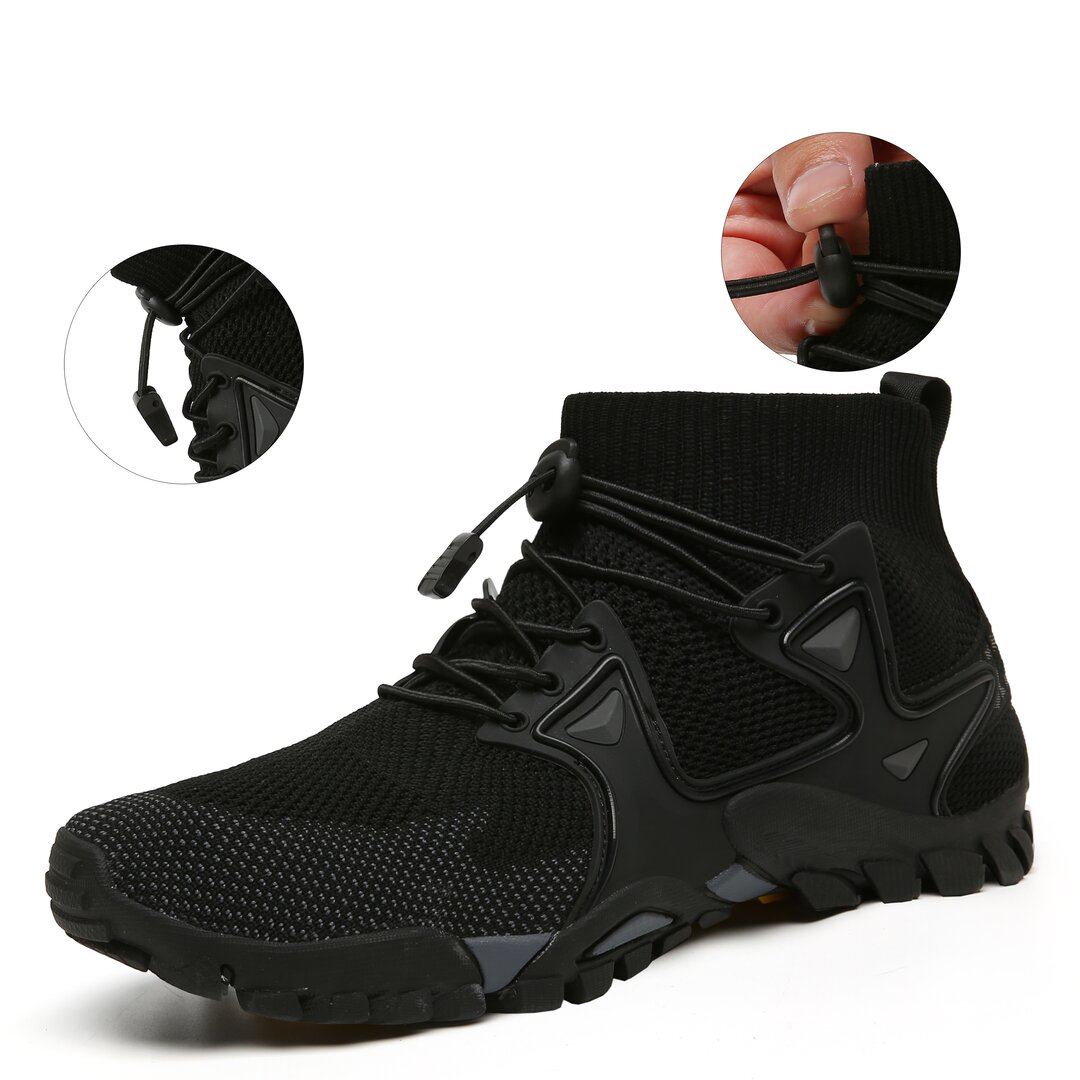 Techwear Sneakers are essential accessories to add a complete touch to your techwear look. This pair of techwear shoes with adjustable drawstring is crafted from premium breathable fabrics that can bring a perfect comfy to your foot, the futuristics all-black designs inspired by urban ninja fashion bring a sense of personality character to your outfit.
If these pairs of techwear shoes are not enough for you, discover our collection of urban footwear with various models, colors, and designs to accentuate your urban streetwear & techwear looks.
Above are the recommended techwear items this week, for a more unique and futuristic look, discover our urban ninja clothes for men.