Techwear Style Guide 2021
Sep 25, 2021
·
by Techwear Club
Warcore Fashion is associated majorly with accessories and outfits that are in use of military people. However, there is one of its counterparts that seems to be dominant in the fashion industry now because of its better outfits. This is called Techwear. It is one of the trends in men's fashion at the moment. You must be wondering what it actually is. Given below is the Techwear style guide for the year 2021 which will let you know every single thing about it.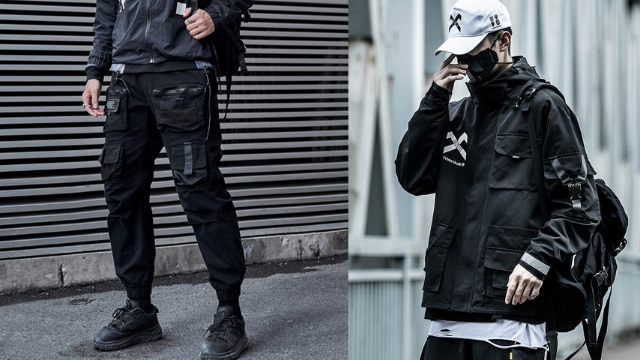 If you're a hiker, climb mountains or do any such thing, you must know the clothing that is made for a particular purpose and not for daily usage. Sometimes, it's comfortable enough to be used when you're not doing what it is made for. At first, think of hiking pants with so many pockets, zip-off legs and nylon-blend fabric. That's actually really cool. But Techwear takes even this to another level by introducing the outfits that are used in movies and TV shows etc.
Techwear is nothing but a combination of outdoor industry and fashion. The most recent example of techwear being worn at a well-known occasion is when Hobbs & Shaw, in the Fast and Furious Series wore it. Their costume designer Sarah Evelyn required clothes for the most-watched series for which she contacted her brothers who are running a techwear brand for the past 25 years. All in all, Techwear has so much to offer for common people.
What is Techwear Aesthetic?
In the past few years, there is a trend going on among people regarding apparel for which most shopowners and also the people want to know what techwear aesthetic actually is. Just like this fashion is new, its definition is also varying with time which is an indication that it'll take some time to grow. If you think of techwear as "clothing with different functional capabilities", you are not defining it in a proper way. In fact, abstract art has gone beyond blotches. It consists of textures along with the history of the artist that made it and the entire story behind that piece. So, this concludes that techwear is something beyond functional capabilities.
Techwear aesthetic seems to evolve quite rapidly and there is a huge fan following of this specific genre of fashion. Let's take a look at some of the subcategories of techwear.
1. Military Inspired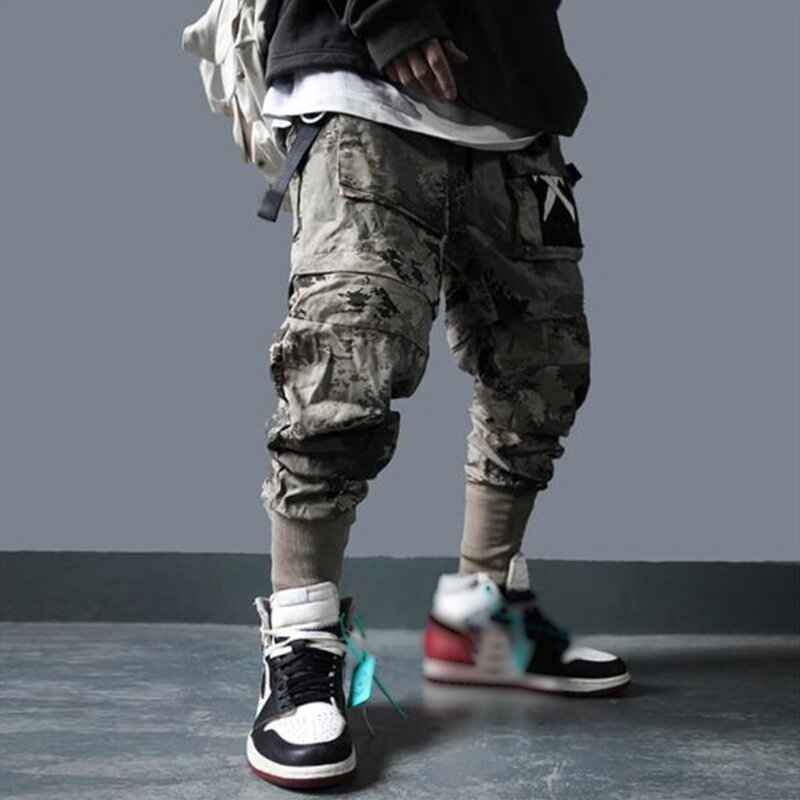 Despite the fact that most people like their country and army as well because they protect them, the controversy of not liking one another's clothing was very much till now. You may see a lot of common people now wandering here and there wearing the same apparel as that worn by different military officers in an entire military fashion. The same goes for techwear outfits. There is a greater use of equipment and outfits used by military officers in the past which is why this is trending now. The most common examples of them include Combat Shoes, Cargo Pants and Bomber Jackets. Some people bring bullet-proof vests into play as well.
2. Warcore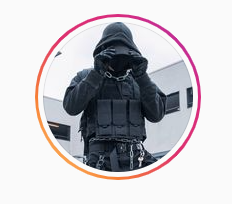 People around the world usually have a tradition of wearing the same old-fashioned clothes wore by their parents or friends, they don't seem to look for new trends. However, this one is a non-conventional one and the colors chosen in this kind are white and grey. Since these outfits are not so common and usually scientists or astronauts wear such outfits while going to space or another planet for some experiment, that's the reason why it is given the name "Lunar". You can't actually wear it at a party or your graduation ceremony because it's too awkward. However, you can use it while going for a morning walk or something like that so that you may feel comfortable.
3. Greyman
This style is just the opposite of the above-mentioned one and is called Greyman. Some people call it functional wear as well. This category has taken all the aspects of techwear and style the clothes in the norm-core category which makes it even more interesting and special. The main aim of this kind of outfit is to blend in without letting anyone know about it. In this way, the features of two or three things combine to form one resilient thing. Most people now have started to take the aspects of techwear so seriously.
4. Techno Punk
The worst and biggest enemy of a Greyman Techwear User is Techno Punk and that's the reason why one of them in the market is always dominant. Most clothes in this category do not have any functional capability. Those who like Techno Punk usually mix dark techwear aesthetic with some punk style or some other fashionable thing. Some brands who offer these techwear outfits include Rick Owens and Boris Bidjan Saberi.
5. Street Tech
Street Tech is considered to be the younger brother of techno punk in a way that in street punk, the high fashion along with punk is replaced with streetwear. All you need to do is to mix some street style with techwear accessories as well as cargos. Street tech is really easy to make. There is no need to wear chest rigs and bullet-proof vests because this style is really simple.
The Futuristic Techwear Look
Cyberpunk originated from science fiction that features advanced science and technology in a dystopian future. As we all know that techwear is inspired by the cool cyberpunk culture. This defines the DNA of techwear must be futuristic and functality. There are so many celebrities who have worn techwear and looked really cool in it. Even though there are so many straps and pockets in them, you can use every single thing present in them for your benefit. The most used color till now is black and dark color. You can wear techwear pants, techwear joggers and even Shalwar and Kameez too. So, either you are an Asian or an African or whoever you are, try techwear outfits. You'll surely not regret your decision.
You have the option of lighting the colors a bit, though it won't give the same old attractive look. So, try grey or light brown color and match the rest with these colors. Some of the most famous brands that are offering techwear outfits to add to your wardrobe include Acronym, NIKELAB ACG, Adidas, Outlier and Stone Island. Or explore affordable techwear at Techwear Club.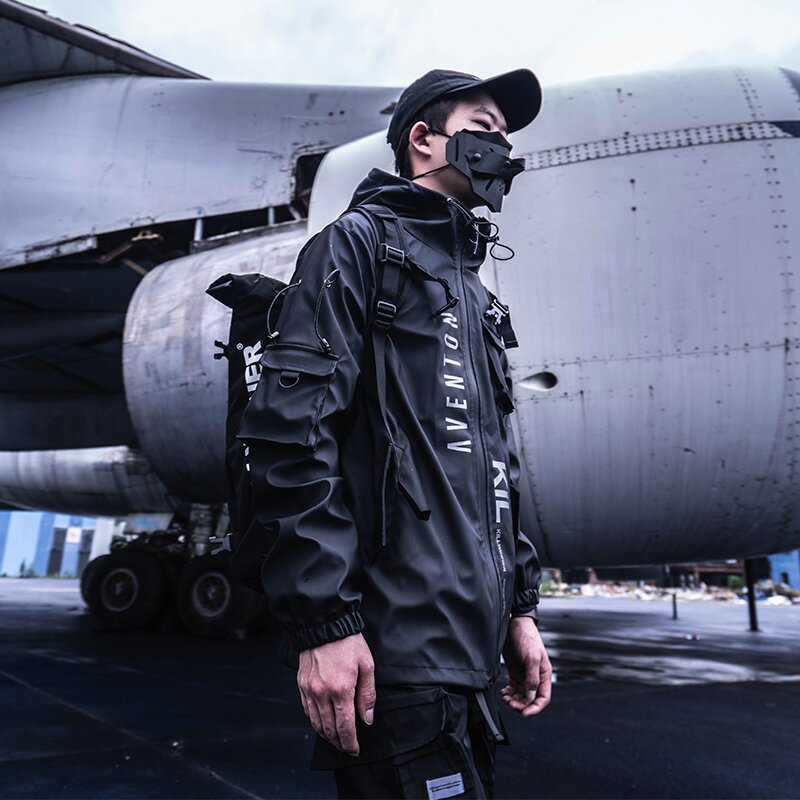 Streetwear VS Techwear
What is techwear fashion? Techwear fashion is an increasingly growing fashion trend worldwide to a range of individuals such as security forces, athletes, cosplayers, and those who are addict to Cyber fashion and futuristic outfits. Techwear is futuristic clothing for daily life with avant-garde fabric, construction, and properties that allow for breathability, movement, waterproof, heat-insulation, and other features. The combination of functional fabrics and practical features with an urban futuristic touch is what makes techwear so hot. Tech wear is more than a tee or a jacket with extra pockets. Techwear fashion is inspired by mysterious Japanese ninja culture and futuristic Cyberpunk fashion.
Techwear is similar to streetwear. But Tech wear is often worn in all black or dark colors, more trend to the black aesthetic, while incorporating different types of accessories. A classic Techwear look involves practical techwear outfits and techwear accessories, such as techwear masks, cyber glasses, metal techwear jewelry, and so on. Techwear is more elaborate, functional and includes more accessories than streetwear clothing. Actually, tech wear is often a more dramatic and multi-functional version of streetwear. Streetwear was invented in the 1990s and has evolved into more urban style branches since then. So, I think that techwear is a branch of streetwear.
Techwear includes different clothing items which have good breathability, water resistance, heat insulation and other functional features. Techwear isn't restricted to a few jackets with so many pockets only, it has so many categories and you can choose based on your like and dislike. The idea of techwear came from the Japanese Cartoon Series named Ninjas in which different characters used to wear these specific tactical outfits to fight.
We cannot actually define what techwear is. Charlie Haywood says, " I'm sure there will be a lot of definitions of techwear outfits". However, techwear is made to bring some functionality to man-made materials. Techwear clothes usually have so many pockets to hold your belongings. The breathability is good enough in these tech outfits, and techwear is also available in the summertime. Techwear outfits with utility features can no doubt that add a futuristic touch to your look.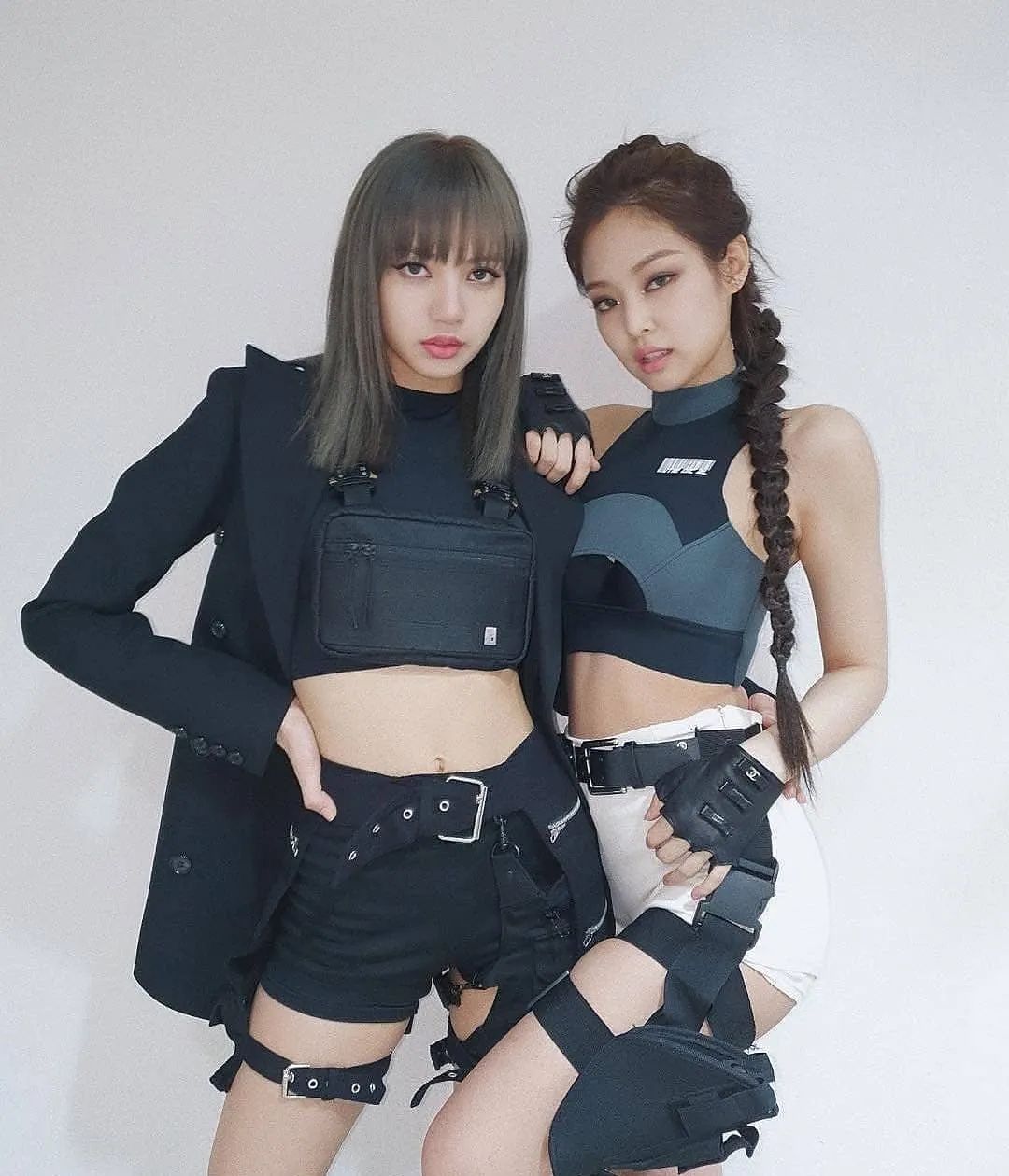 Techwear isn't restricted to men only, if you are a woman, you have an equal opportunity to style a cool-girl look with our techwear women collection. Despite the fact that an affordable techwear brand with high-quality and good after-sale service is not so much, but Techwear Club must be a good choice for you, we are available to provide on-budget techwear and techwear alternatives to global customers.
Streetwear is almost the same as that of techwear but the only difference is that in techwear, people mostly like to wear black-colored outfits with many other accessories including masks and gloves but that's not the case with techwear. Techwear is just the updated version of streetwear. So, there is no confusing thing if you want to differentiate the two.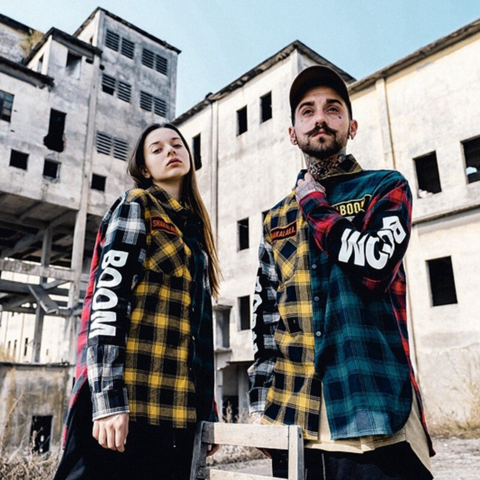 The above-mentioned picture is the perfect reflection of streetwear clothing.
Benefits of Choosing Japanese Streetwear Fashion
If you are a fan of Japanese and Korean culture, maybe you may also be interested in streetwear hoodies printed with kanji and various Asian symbols. Explore our Japanese street clothing collection, choose from Japanese streetwear hoodies, kanji hoodies, and other Japanese-style streetwear essentials. There are varieties of clothing out of which you can choose based on the occasion or this may be your choice to see which one suits you the most. Streetwear is one such outfit. Let's see how it is beneficial and making people believe that fashion still exists despite the pandemic situation around the world.
Most people like Japanese streetwear just because it is unique in its own way. It is human nature that we don't like to wear the same thing that other people have wore or they are already wearing. Also, they come in so many different designs that you'll require a lot of time to choose and none of the streetwear outfits resemble each other. This has been done in order to avoid people from buying the same thing because as a result of that, the clothing style loses its aesthetic and charm.
Some people also love Japanese streetwear outfits because of the comfort they provide. That doesn't mean these outfits are simple, there are the most luxurious outfits available which can be used for any occasion, just like the ones shown in the picture above.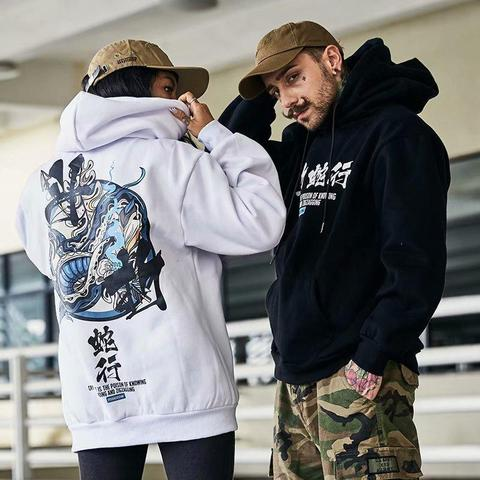 CyberPunk: One of the Best Apparels to Maintain Your Style
Cyberpunk is that form of streetwear which creates an entirely powdery look. These are closely associated with tech wear and can easily take place in your heart because of being too good.
If you choose a black hood to wear at a party that has so many pockets to keep your valuables safe, you'll see a lot of people staring at your outfit because it is really good. In this way, you can make your winter style even more special. Also, there are so many designs available for men, women and children as well which can be used in winters. So, Cyberpunk has a lot to offer for common people. Apart from that, there are t-shirts available as well which can be worn on normal days. So, cyberpunk is beneficial for people who like to wear something unique and comfortable.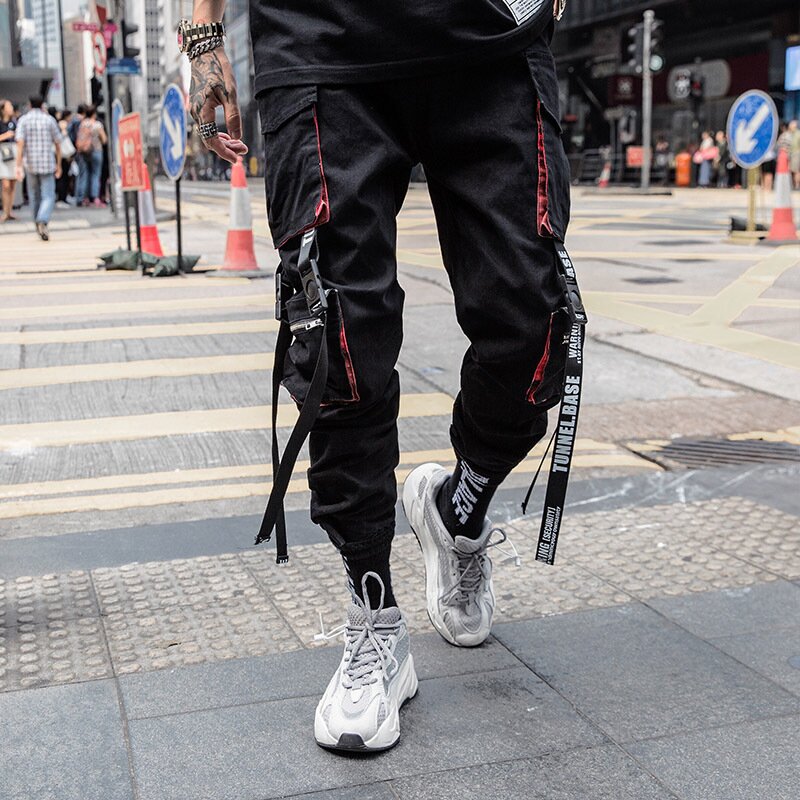 Conclusion
Techwear has the utmost importance in the fashion industry these days and it has a long way to go. Actually, affordable techwear is not hard to find. Techwear Club has covered all your needs, from daily casual wear, exquisite punk fashion to cool techwear essentials, all at a favorable price.
The major characteristics of these outfits include their non-folding ability. Moreover, you have to keep it in the same way as it is. Also, you cannot tore these outfits into pieces. So, it is a long-lasting thing which you can wear and look like a military person, even if you're not having a suitable techwear outfit.