Techwear Clothes For Girls 2021 Spring and Summer
May 31, 2021
·
by Techwear Club
1. Techwear Style Cool Girl
Techwear clothes can be said to be a trend that has been online in recent years~ it is manly cool, and it is simply the representative style of the cool boy.
Cause we have seen that this techwear style is mostly demonstrated by boys, so most people mistakenly think that techwear style is only suitable for boys, NONONO...girls can also be cool when wearing techwear clothing. The techwear style that girls match can add a touch of sexy in the cool!
Adding the same functional range to tailored special techwear clothing, futuristic techwear accessories can make the overall styling theme more obvious~ Although the main color in the overall styling is mostly black, which is a relatively monotonous and dim color, through techwear accessories the combination with techwear clothing can create a strong sense of vision and layering.
Maybe this style is not as sweet as the girls in the impression, but nowadays the dress style of girls is not only sweet style! Words such as handsome and cool are equally ok for girls, and girls can also be super handsome!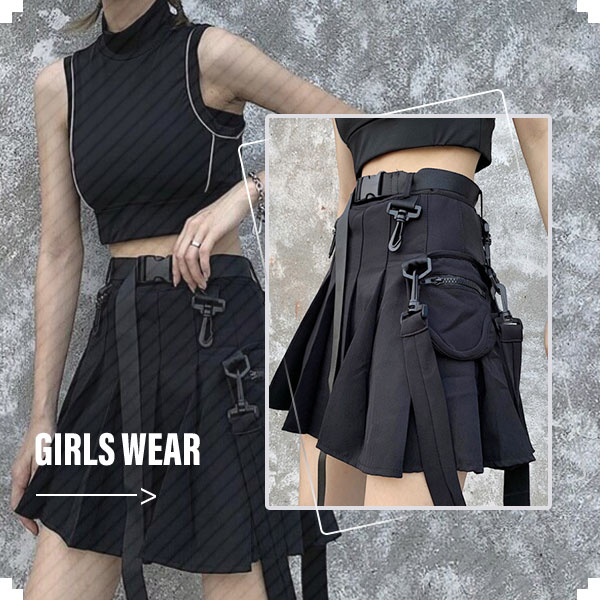 2. Techwear clothes for boys:
There are many techwear clothes for boys. The earliest source of this style is "cyberpunk". It first appeared in the novel Neuromancer by William Gibson, a science fiction master, and then it was derived into a series of animations, games, and movies. In the fashion circle, due to the prevalence of techwear style, nylon belts and plastic buckles have also begun to appear in the designs of many fashion brands.
Among them, the most characteristic and representative is the techwear style that combines traditional military tooling-inspired designs with the current "functions". All cyberpunk techwear clothing systems pay great attention to the relationship between man and machine, such as the so-called rapid gravity release system and molle carrying systems, so that the wearer can experience the convenience brought by functional equipment to the greatest extent.
The techwear clothing uses dark colors such as black as the main color, and its aesthetic design full of futuristic and technological sense looks like a combination of high street and military at first glance, which is very interesting. And compared to streetwear style, the outdoor style shaped by techwear clothing is actually cooler and more man. First of all, a techwear jacket is a must-have item, or you can use a techwear jacket with functionality and trendiness to weaken the overly strong sense of functionality. Try to avoid fancy colors, mainly black, navy blue, and occasionally military green.
The techwear vest is the best collocation weapon for playing with
techwear style, but don't underestimate this single product. The multi-pocket design and hard-cut tailoring make the function and fashion trend consistent. Regarding trousers, try to choose large pockets, and smaller trousers or trousers are more suitable. Casual trousers can weaken the strong sense of function. Bold collocation of the same color, or choose a techwear product with a contrasting color, full of street flavor ~ other accessories such as belts, satchels, techwear hats and other techwear accessories are one of the single products that enhance functionality.
The combination of functional wind does not necessarily enclose oneself tightly, nor does it mean to create a sense of distance. These old drivers who wear functional styles do not want to become "tide" and wear complicated clothes. They love cyberpunk culture from the bottom of their hearts and enjoy the convenience brought by functionalities.