Start Minimalist Urban Techwear With Techwear Bags!
Jul 22, 2021
·
by Techwear Club
The techwear style has blown all over the country. The editor highly recommends that everyone try this futuristic and cool style, and using a bag as the first experience of techwear can be said to be a safe choice, cause a bag that is just right is definitely the finishing touch to the whole street style.
Today, the editor will recommend three urban techwear bags to you. The unique techwear style is so cool and suitable for everyday life, you shouldn't miss it.
Attractive Urban Techwear Style
The techwear style derived from cyberpunk, full of futuristic and dark mystery. Deconstruction, multiple pockets, streamers, buckles, those elements make this dark style particularly eye-catching.
A complete set of cyber techwear looks very like a "ninja" who haunts the night. This style has become a favorite for many fashion guys. The design of tech wear often pays more attention to functionality, and techwear is also a comfortable fashion.
Maybe you think cyberpunk techwear is too dark? Too conspicuous and exaggerated that not suitable for daily wear? Then the editor will suggest you try minimalist techwear, and with 1-2 techwear items to embellish and enhance the texture of the whole street look.
An advantage of tech wear is that it doesn't choose one's figure or appearance. The loose-fit tapered techwear pants can well modify the shape of the legs. The techwear hat with the wide brim can block the hot sun and almost half of your face. Techwear hoodies and techwear windbreakers are generally loose-fit designs too. Techwear style can create an advanced mysterious atmosphere based on the perfect modification of one's body shape and appearance. Cool, low-key, and practical are the most basic elements of techwear. That's why the techwear style has been popular and lasts for a long time.
Techwear sling bag: The techwear bag is designed with urban techwear style as the main axis, and the overall color is black, light gray, and dark gray. Exquisite high-end technical fabrics, multi-pocket design, simple three-dimensional tailoring, you can not ignore the charm of the techwear bag. There isn't too much complicated design, and the whole is presented in a simple style. The most important thing is its super cost-effective performance, affordability, and easy-to-get urban techwear! While focusing on practicality, the clever design also provides more possibilities for matching, to achieve a fantastic balance between urban street style and techwear style.
This bag is deep black, with multi-pockets, streamers, and buckles creating the overall with a sense of hierarchy. It can be said that such a techwear bag can become the finishing touch to your styling. It is also very suitable for daily commuting. Matched with a simple white t-shirt and a pair of cargo pants, this techwear bag is the perfect fit. The urban techwear style without any sense of contradiction, this dark style bag is also suitable for work and appointments. In autumn, this techwear bag can also be paired with an Urban techwear anorak. It's also very cool. Even with a simple black hoodie, this bag can also earn a lot of returns for the entire look.
Practical design and exquisite techwear bag
There is no fancy appearance in this techwear bag, there is just a steady shape, and the inside design is delicate and intimate, with full-score in details. The storage function of this techwear sling bag is also very excellent. Generally, all the things that you need to take when you go out can be perfectly stuffed inside it. There are also external transparent pockets, all kinds of earphones, keys, cards and other odds and ends that can be stored well, and it is also very convenient to take them out when you want to use those small items. This techwear bag is made of high-end technical fabrics, the texture of the material is delicate and soft. The white embroidered slogan on the surface is also very delicate, heightening the texture of the entire bag.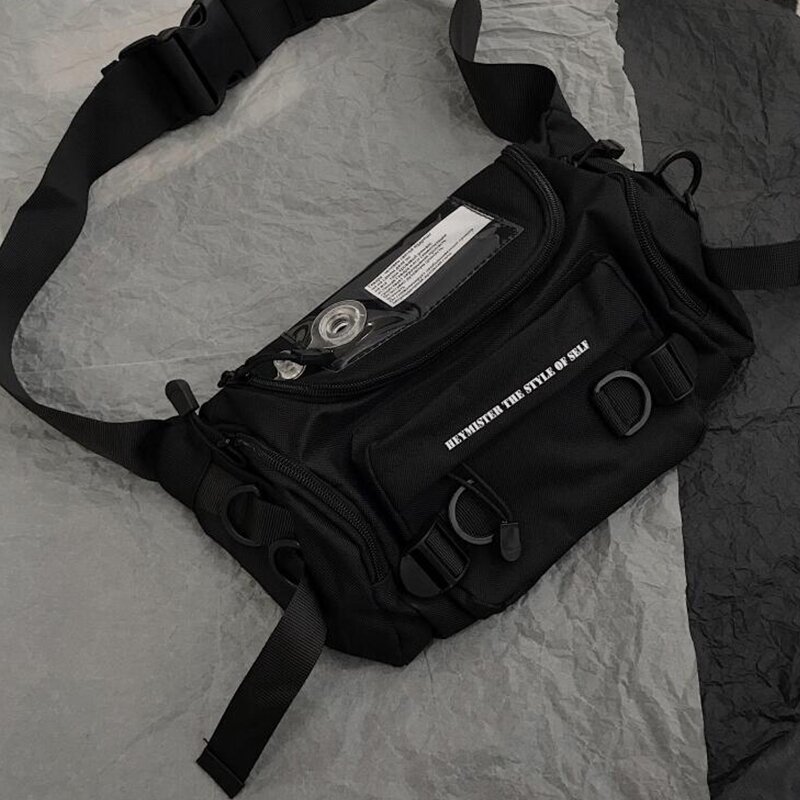 Techwear Backpack: Of course, a casual and dynamic sports look needs a suitable backpack to respond to it. Continuing the usual functionalism and large capacity, the techwear backpack takes the classic black as the main tone, and the bright and special contrast elements make this techwear backpack instantly break the basic dullness. At the same time, it is decorated with a futuristic drawstring and long ribbons design, which hits the unique techwear style.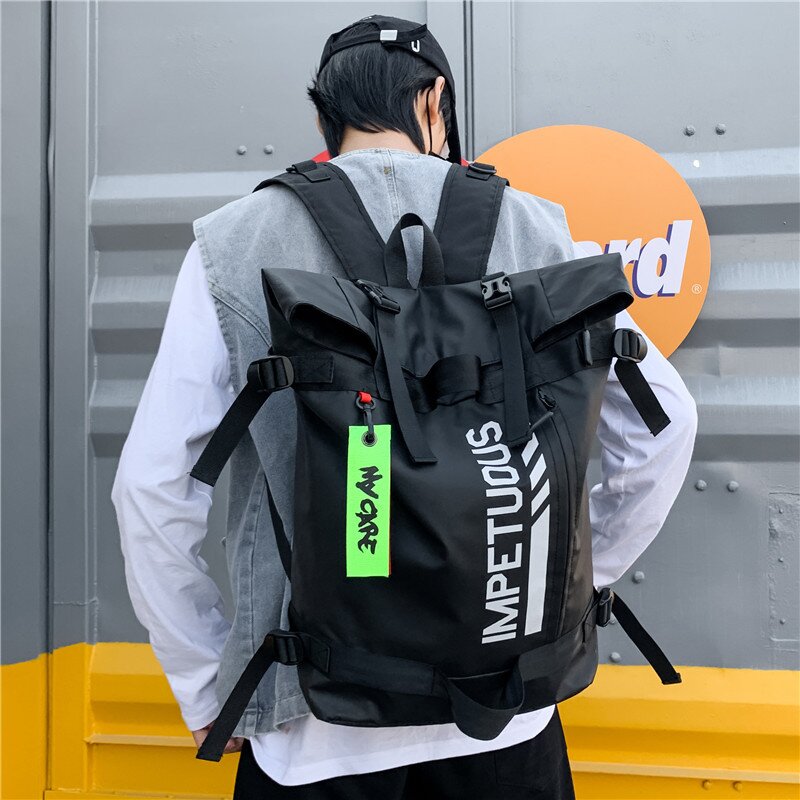 Techwear Vest Bag: The vest is one of the most significant items of techwear style. When you can't handle the whole set of cyber techwear, wearing a techwear vest is the easiest way to shine your whole street looks. Wearing a techwear vest bag with a techwear sweater and techwear overalls, you will be a techwear textbook in the street. Of course, Techwear vests are not exclusive to men, they are equally friendly to girls. You can choose a techwear vest bag with bright colors or patterns, wearing sportswear or overall and you will take the cool Girl route, which is cool and cute for girls!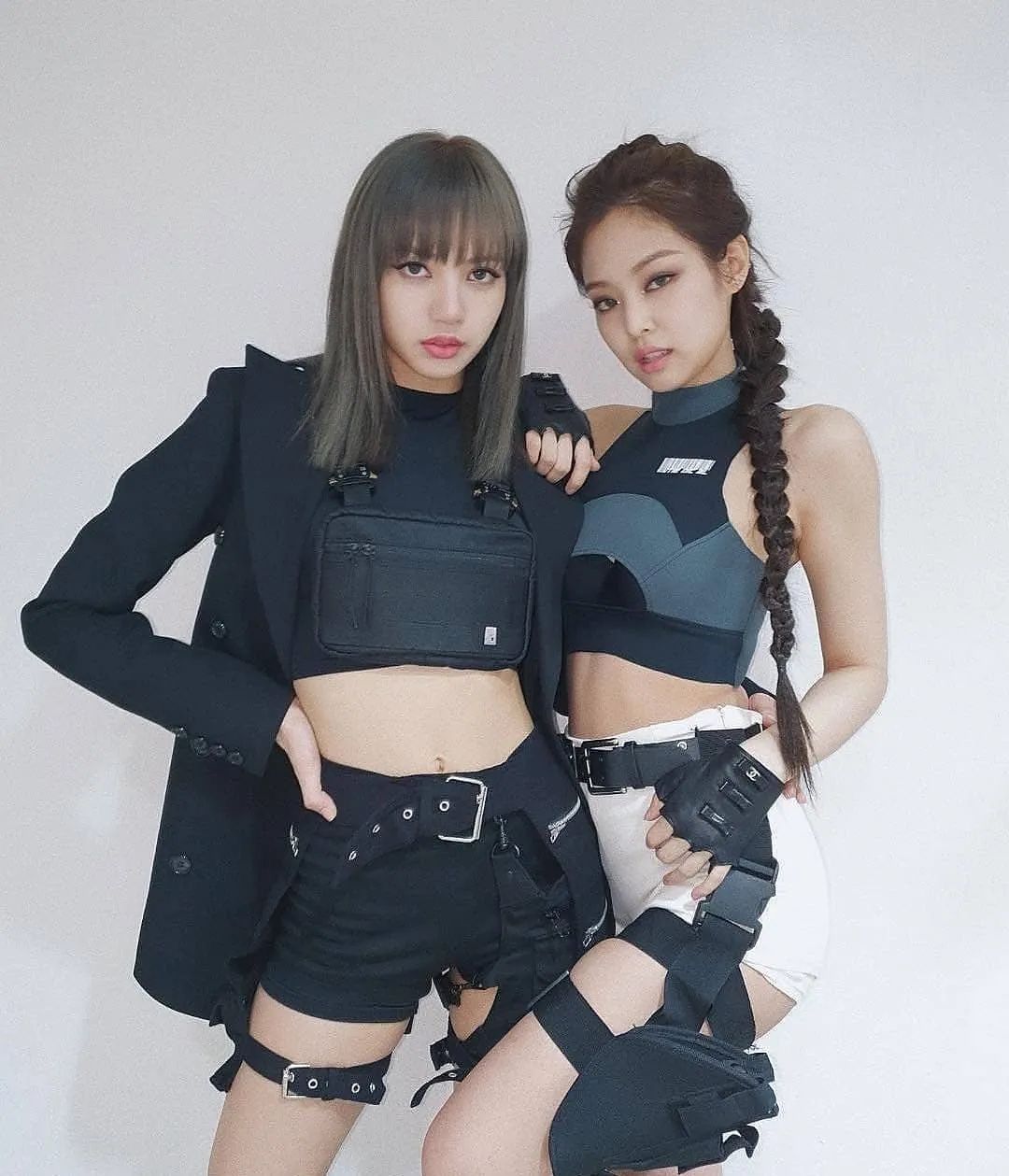 This techwear vest bag is also dark style as usual, with large capacity, multi-pockets design, decorative with straps and buckles. Multiple colors are available. The color of the techwear style is mostly dark and metallic, and this is also the tone of the entire techwear. However, with more and more fashion brands turned their attention to techwear, more and more highly saturated and futuristic colors appeared in techwear clothing.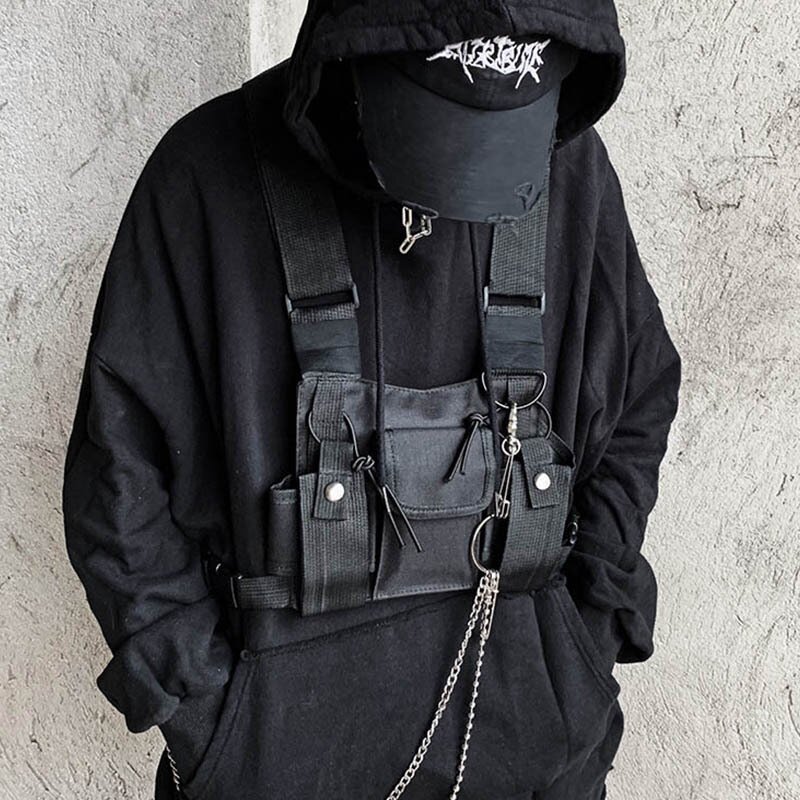 Conclusion:
We are always looking for the most attractive and suitable outfits for ourselves. However, our attention is often focused on the general direction of the upper body, pants, and footwear. Accessories such as backpacks, belts, and accessories are ignored. It is a pity that these can best demonstrate personal taste and style, and we can find subtle fashion trends from them. Check on-trendy affordable techwear accessories at Techwear Club now.