Recommended Techwear Essentials This Season
Aug 05, 2021
·
by Techwear Club
With rapidly developing science and technology, lifestyle is changing every day, the "Techwear Style" doesn't be run out and is still popular today. What does the concept of "techwear" refer to, what is the representative of techwear fashion, or which brand is based on tech wear for the representative, which techwear gears are worth starting at this moment?
Speaking of Techwear it is just a concept, more it refers to a style. In terms of color matching, black appears more frequently in the techwear outfit. Designed with large pockets, straps, buckles, etc, matched with face-covered hats and masks, Techwear, more like an "Urban Ninja".
This style is deeply influenced by "cyberpunk" culture, which first appeared in the novel "Neuromancer" by William Gibson, a science fiction master, and then it was derived into a series of animations, games, and movies.
In the fashion circle, the most well-known techwear series maybe is the following shoes.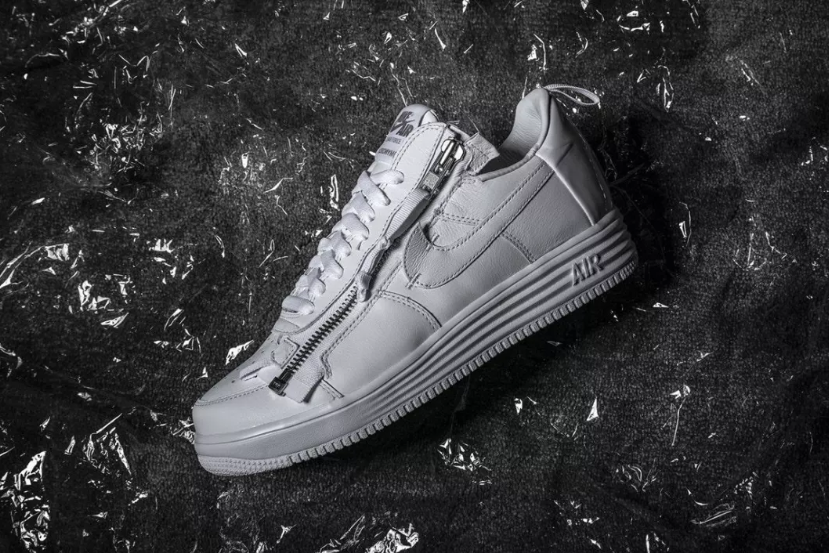 ACRONYM Lunar Force 1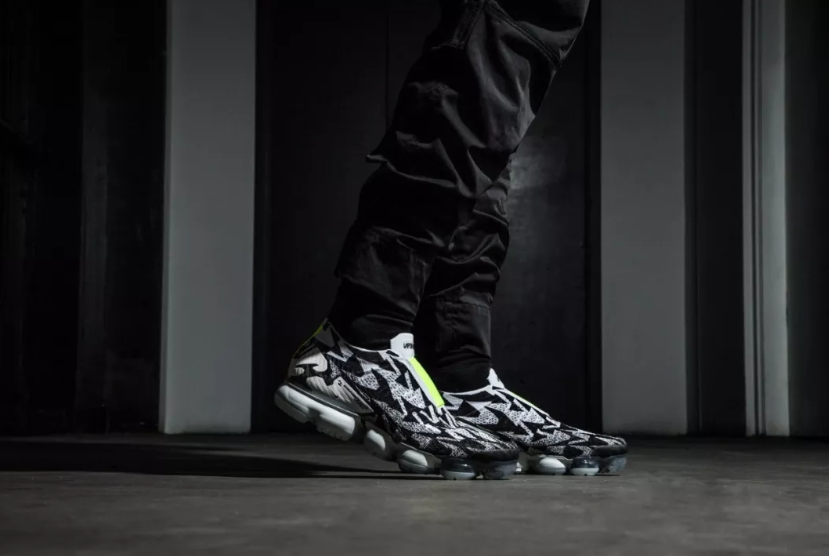 ACRONYM x NikeLab Air VaporMax Moc 2
Due to the prevalence of tech wear, nylon straps and plastic buckles have also begun to appear in the designs of many high-street fashion brands. For example, Christopher Raeburn, Boris Bidjan Saberi (BBS), and other brands have used such elements in their autumn and winter series. Comme des Garcon Homme Plus even used nylon straps on the details of the suit.
So which is the techwear brand that attracted the attention of the majority of people. Or who is the first to propose the concept of techwear?
The originator of techwear fashion
Speaking of techwear style, we have to talk about the representative brands (series) of this style: ACRONYM®, NikeLab ACG, Stone Island.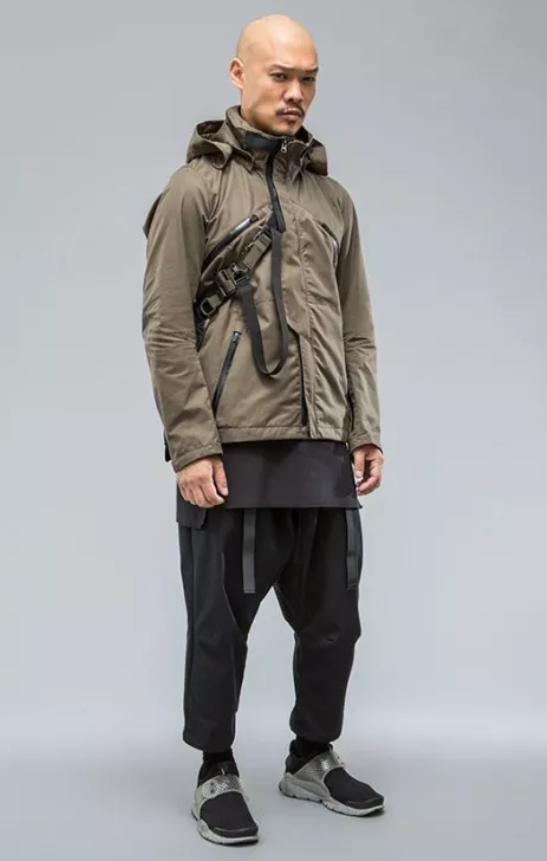 ERROLSON HUGH
Among them, ACRONYM has long become a representative of tech wear in the fashion circle. The principal and designer ERROLSON HUGH has always used advanced technical fabrics and unique tailoring designs to make ACRONYM's clothing the strongest urban techwear outfits. Earlier, he assisted NIKE to remake the ACG outdoor series and received unanimous praise. ACRONYM can be said to be the first brand to develop techwear.
So what is special about ACRONYM? From the perspective of J47A-WS, the weight of GORE Windstopper's technical fabric is only 363 grams, windproof, waterproof, and highly breathable; the body is equipped with a total of eight pockets, and it is a detachable design with a unique cable strap. The system has improved portability and is finally matched with neat tailoring, this model is the classic ACRONYM unique techwear aesthetics.
Another example is the techwear jacket that can be designed to fix sweat towels or silk scarves and has the function of wicking perspiration. It can be pulled down and can be put into the cuff design of the mobile phone. The earphone absorption design is tailored for running enthusiasts, ACRONYM's price is not cheap, but the packaging is usually very simple, and most of the items have deformability and multifunctional pockets.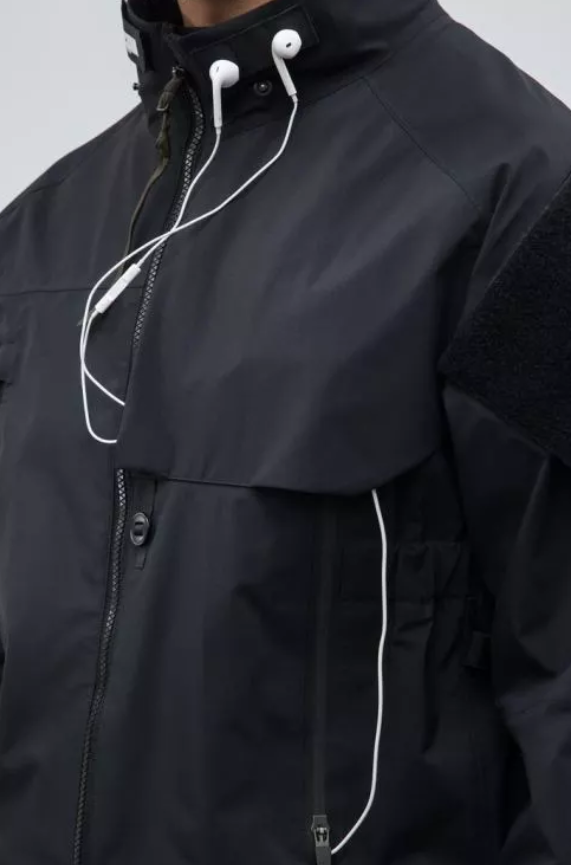 ACRONYM Techwear Jacket
Errolson Hugh once said in an interview, "ACRONYM is conceptual, but when we think of anything combined with practical value, even if the process is complicated, we will still insist on making the clothes we want. We have never attempted to create a tight supply and demand. We just want to make the best things possible. This is not a marketing strategy, but because the technology or materials we put in are so precious that we have such a price."
Speaking of Nike ACG, I have to mention that the original ACG series is mainly outdoor and its performance is mediocre in terms of trends. In 2014, Nike classified this series into the more experimental and design NikeLab and invited Errolson Hugh, the principal of ACRONYM® just mentioned, to serve as the designer.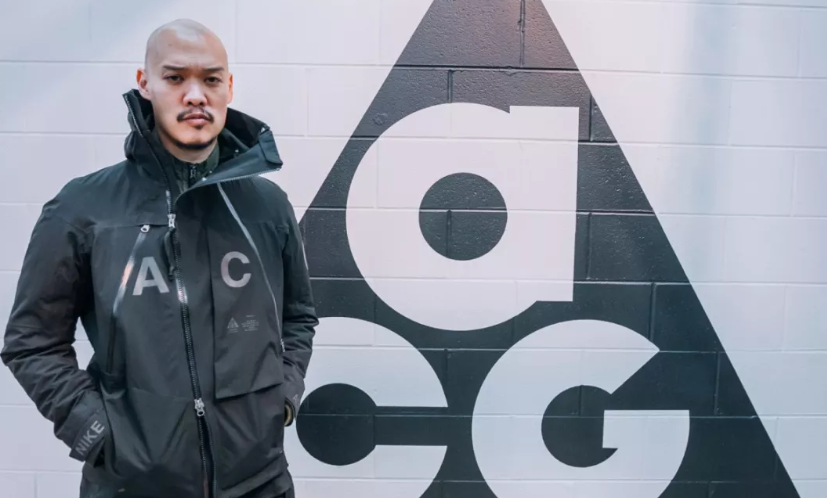 Errolson Hugh And NIKE ACG
In addition to adhering to the concept of outdoor, the new NIKE ACG series has an overall design full of futuristic urban style. The "cyberpunk" style that can be seen on ACRONYM® also appears in its various products without exception.
The "techwear" trend that has been blowing in the past two years is considered to have created a very good growth environment for ACG. More and more fashion enthusiasts have gradually begun to recognize the concept of "urban ninja", and ACG, except for clothes and pants while maintaining the characteristics of breathability, windproof, waterproof, and warmth, it also adds more zippers and functional pockets. The tailoring is also very three-dimensional. It can be seen that it's comfortable and on-trend. And Nike ACG pays more attention to the techwear girl branch. From this point of view, Nike is insightful.
What are the recommended techwear essentials?
We know that techwear is not only clothing but also has footwear and other accessories, such as techwear bags, techwear masks, cyberpunk glasses, etc. So which items of techwear style are worthy?
①Techwear bag, we must mention the techwear chest bag of "MMW" co-branded by the ALYX (now renamed "1017 ALYX 9SM") and NikeLab. The material of the Techwear bag is also relatively special and niche. Compared with common materials such as leather and canvas, its material varies from style to style. Whether it is hot summer or cold winter, a techwear bag can not only hold a lot of small items but is also a good choice to increase the sense of styling.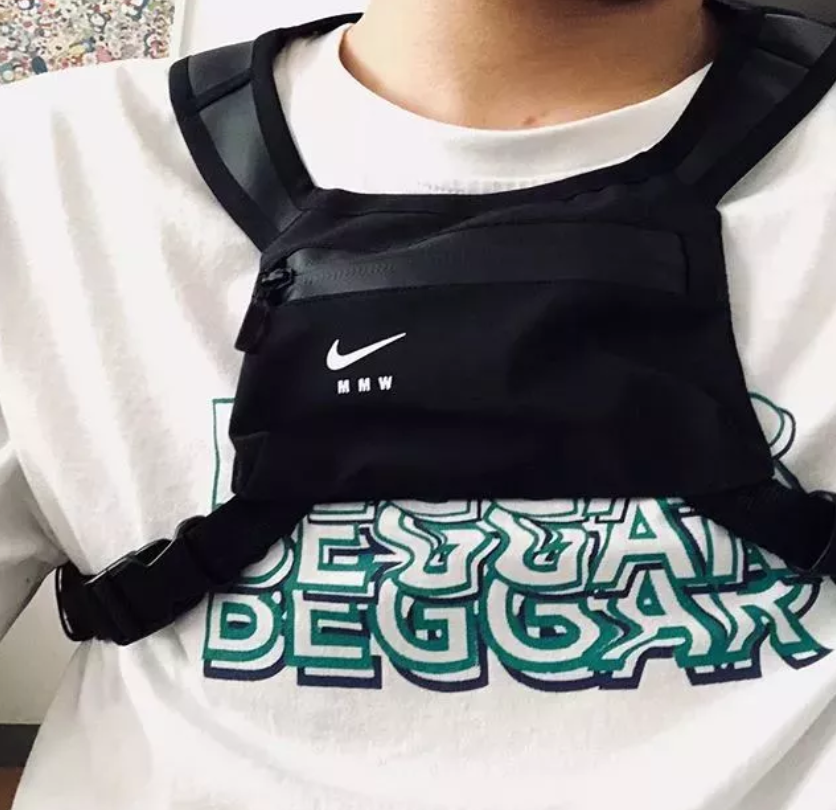 Techwear Chest Bag Of "MMW"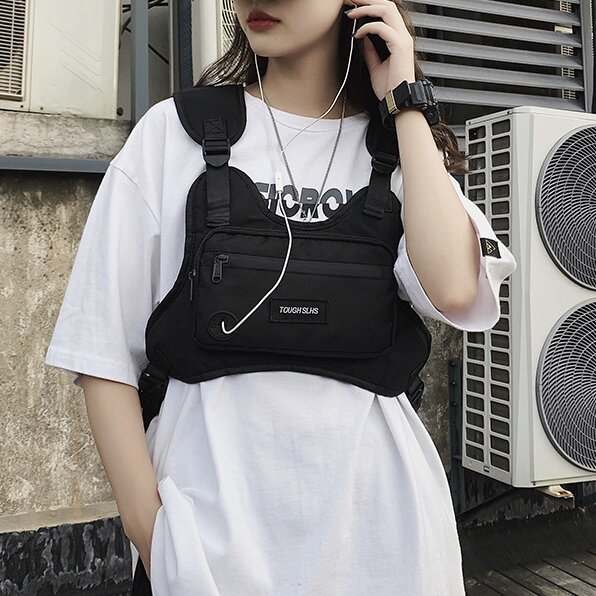 Tactical Techwear For Girls
②Techwear shoes, this kind of shoes can also be regarded as a derivative of urban techwear. made of durable and strong technical fabrics, this kind of shoes not only looks good in appearance, but some styles also have the function of adjusting the elasticity and tightness. Techwear shoes are very suitable for summer.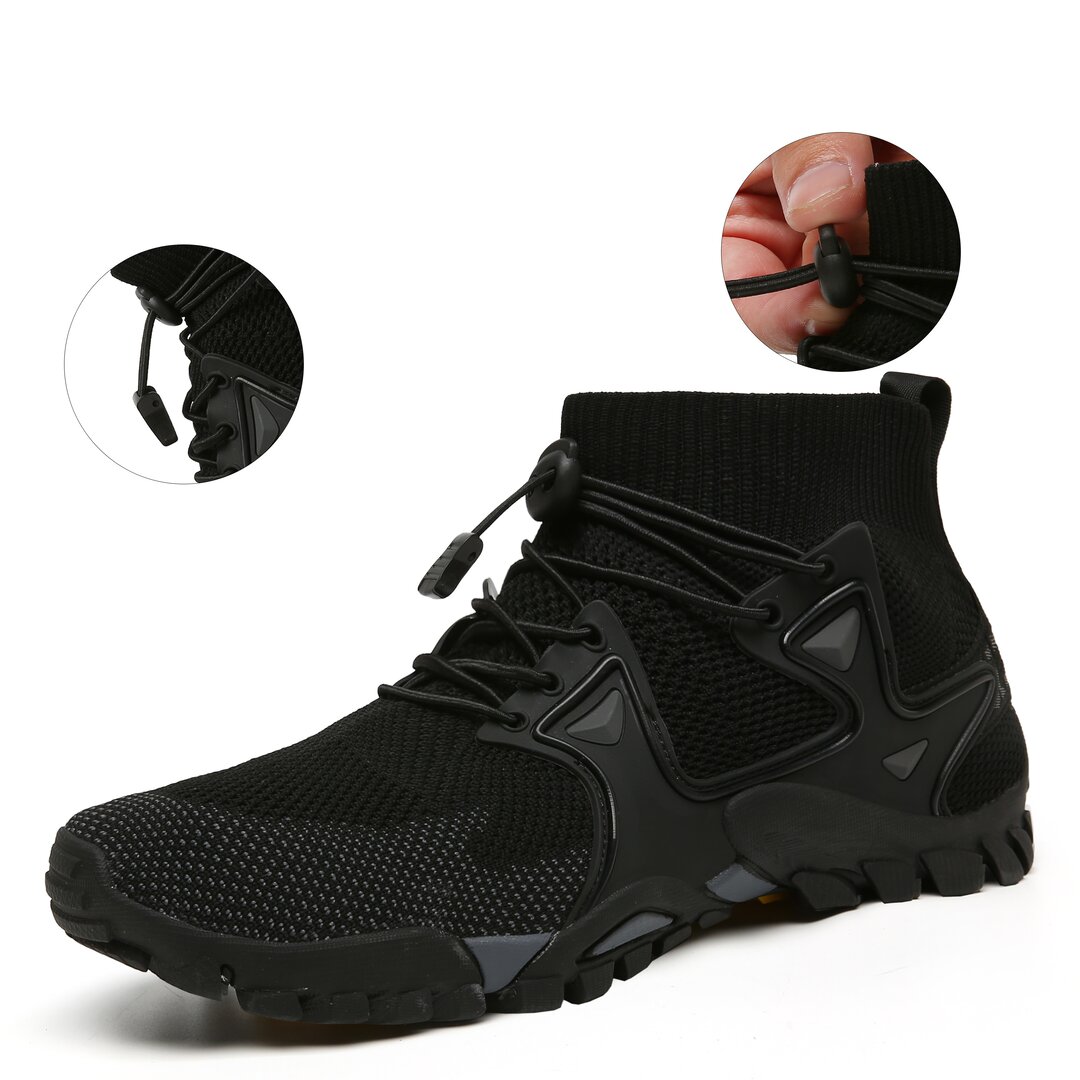 ③Techwear vest can be free of urban style and techwear aesthetic, whether it is used as an outfit in winter, or be matched with a short sleeve tee in summer, it is very versatile. This kind of techwear vest is also suitable for cool girls.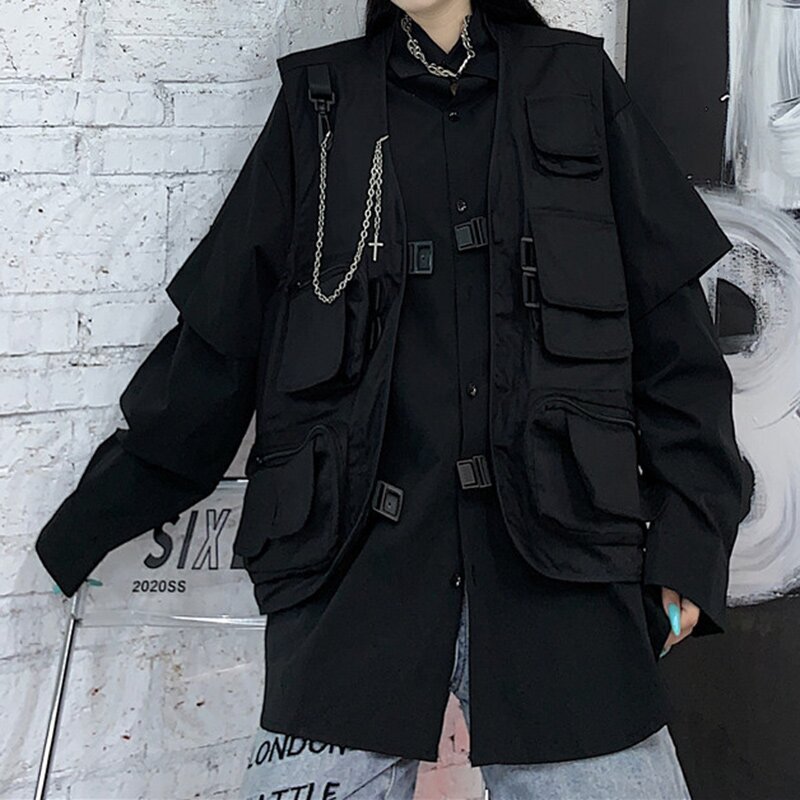 Techwear Vest From Techwear Club
Techwear is essentially a trendy attitude or lifestyle with a core and thinking. It adds modern technology to classic fashion items to achieve a win-win situation between practical and good-looking. Although these types of items are expensive, there are also alternative affordable brands that are worthy of your reference.
Affordable Techwear Brand- Techwear Club
If you're searching for an alternative on-budget Techwear brand, Techwear Club is a good option for you. Techwear Club provides a line of urban streetwear & techwear at a fast-fashion price. Founded by a group of passionate young techwear lovers, with the passion of "making more affordable techwear clothing", Techwear Club droves to offer the global customers the most aggressive value of techwear style clothing.