Go out without backpacking! You must know these Techwear Vest
Aug 02, 2021
·
by Techwear Club
Maybe you already think that the outdoor style is too rough, the military-style is too tough, and the street style is too exaggerated. Then their comprehensive version-Techwear style, do you think it's a bit interesting? I really think that techwear may be the most suitable style for young men and young women. Below, let's take a look at techwear style and the all-match techwear vest in all seasons.
What exactly is techwear style?
Techwear is an extension of Cypherpunk Fashion. As for what kind of existence is Cyberpunk, interested friends can revisit "Blade Runner" and "Ghost in the Shell" and feel its charm of virtual reality, artificial intelligence, and postmodernism.
Contemporary designers have integrated such elements into the clothing. Fusing workwear, outdoor activities, and fashion together, The Urban techwear style turned out, and in the past two years, the enthusiasm for techwear has not diminished.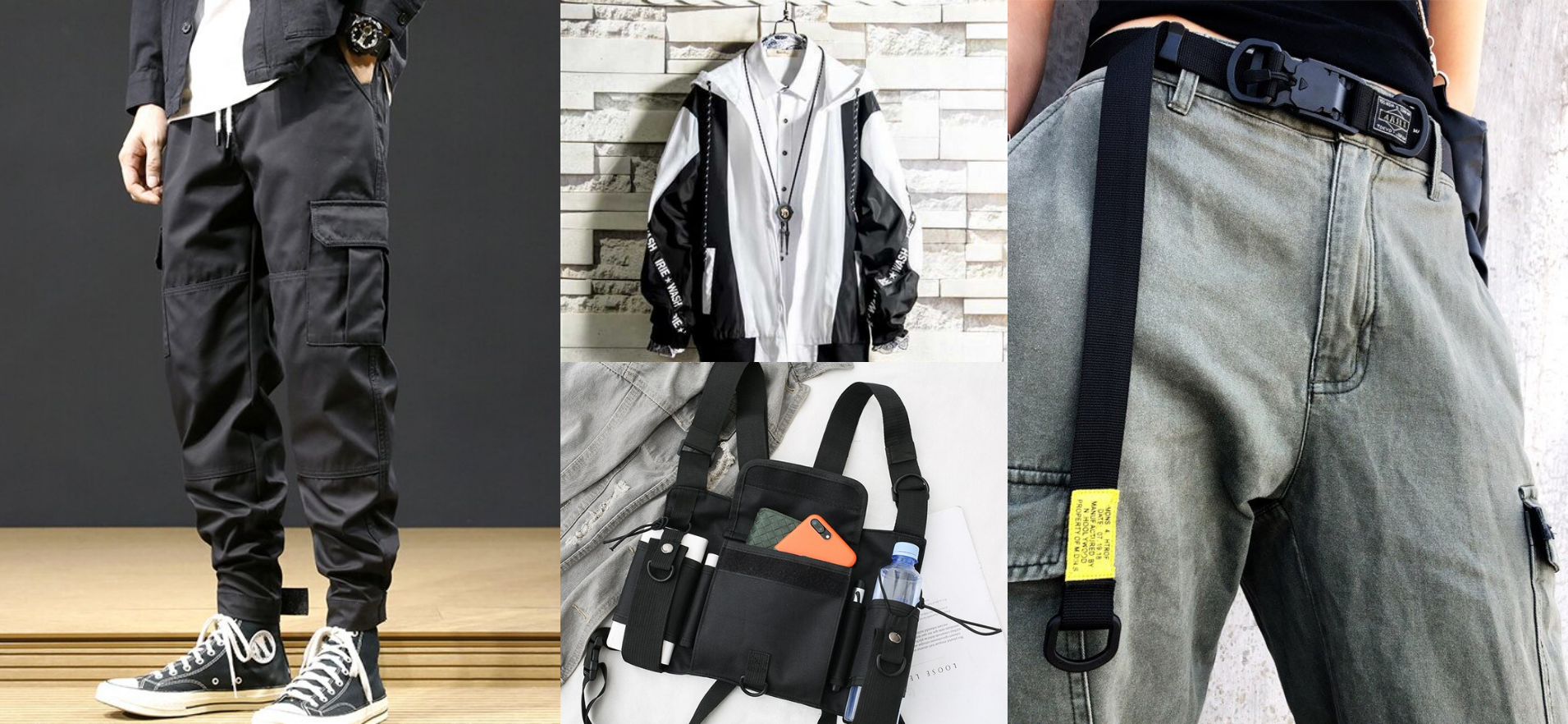 Classic Elements Of Techwear
Fabric selection: In the context of cyberpunk, people need to survive in an unstable outdoor environment and maintain a comfortable state. Therefore, the choice of TECH WEAR fabrics is generally high-tech fabrics (such as GORE-TEX), windproof, waterproof, breathable, lightweight, and warmth are essential.
Various functions: multi-pockets, zippers, straps, and etc, are designed to facilitate carrying and using tools. This functional design can meet the special needs of these different scenarios, so techwear is more of a sense of equipment, Technological style.
Three-dimensional modular pockets can be said to be the biggest feature of techwear clothing, this element is usually all over the body, such as arms, chest, and outer thighs generally have such pockets that can create a sense of visual expansion. Streamers: In techwear outfits, you will find that there are always some long streamers, which can not only enhance the handsomeness of the street look but also create a sense of vertical lines.
Metal lock buckle is also a common techwear element, which can be seen not only in clothing but also in accessories such as backpacks and belts.
Tailoring style: It is precise because of the pursuit of wearability and functionality that many techwear clothes have outdoor sports styles. Such as coats, jackets, windbreakers and bottoms, straight-leg pants and leg-cut pants are the classic styles of techwear.
Color application: The color of techwear is mainly dark. Because it needs to show a sense of mechanical and industrialization, the overall visual effect is generally dark. Generally, techwear is dominated by dark colors, black is the most common, of course, there are also classic camouflage or green colors. In addition to the common dark colors, the current urban techwear also incorporates other colors as a brightening, in order to explore more ways of matching.
Difference Between Military Vest And Utility Vest
Speaking of the origin of the tactical vest, I believe you can guess from the name. The tactical vest is a piece of indispensable equipment for soldiers to perform combat or other military tasks. You can see that there are multiple pockets, buckles, or straps on it. The purpose of such units is to facilitate the soldiers to carry and quickly obtain ammunition, auxiliary weapons, first aid supplies, as well as dry food and water, and other equipment required for combat.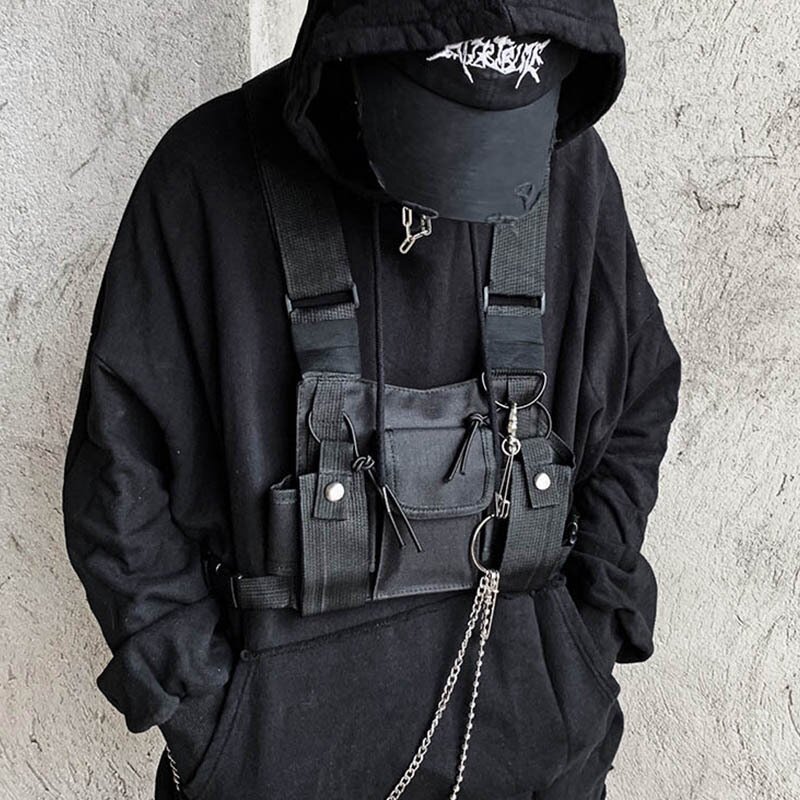 And this military style has evolved in recent years and has been embezzled to the streetwear field. I think it should be owed to Rappers. It is these Rappers who spare no effort to demonstrate that this trend of tactical vests has spread all the way from abroad to domestic, And tactical vest has become the most popular street style item for a while.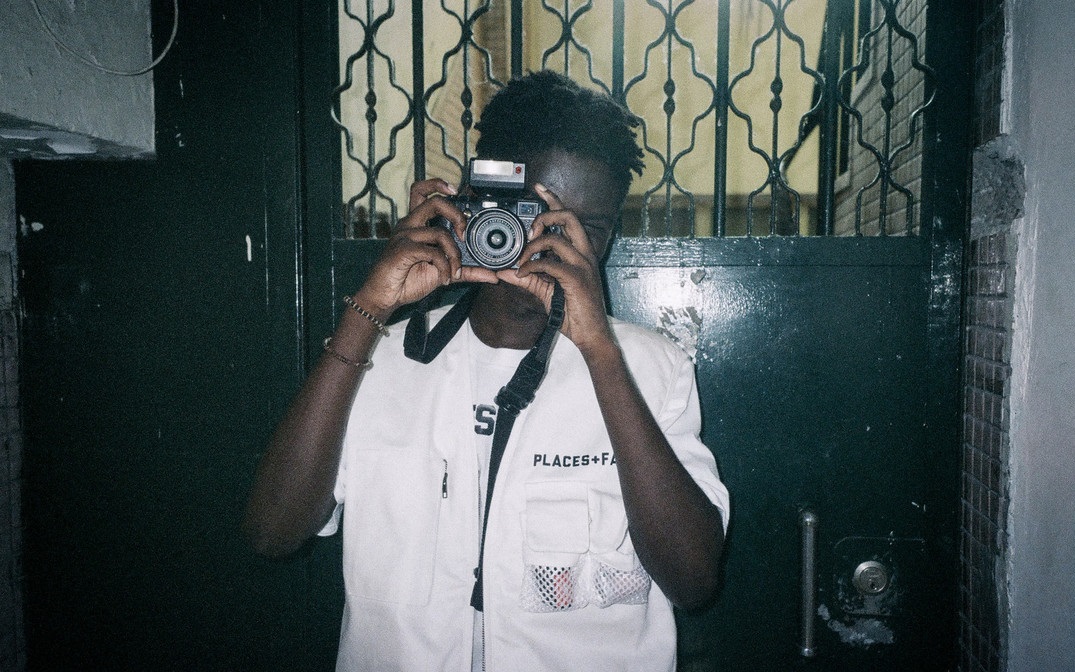 Compared with the tactical vest, the Techwear vest has reduced some pockets in its design, pays more attention to daily practicality. It is more functional in the use of materials, meets daily needs, and is more diversified in terms of tailoring or version. Techwear vest is more like a derivative of the tactical vest just mentioned. It is also derived from military-style tactical equipment, but it is deeply influenced by Cyberpunk Fashion and Urban Techwear. It is designed after various improvements and evolutions.
Today, I recommend a Utility Vest that is suitable for spring or summer. Crafted from premium lightweight and breathable fabrics, this Utility Vest will bring you a cool techwear look. There are 5 tactical 3d pockets to store all your belongings. With simple buckles decorations and functional multiple pockets designs, This techwear vest is full of mystery and is the perfect fusion of reality and post-modernity. This tactical techwear vest is an essential accessory to add functionality to your techwear wardrobe and finalize your street looks.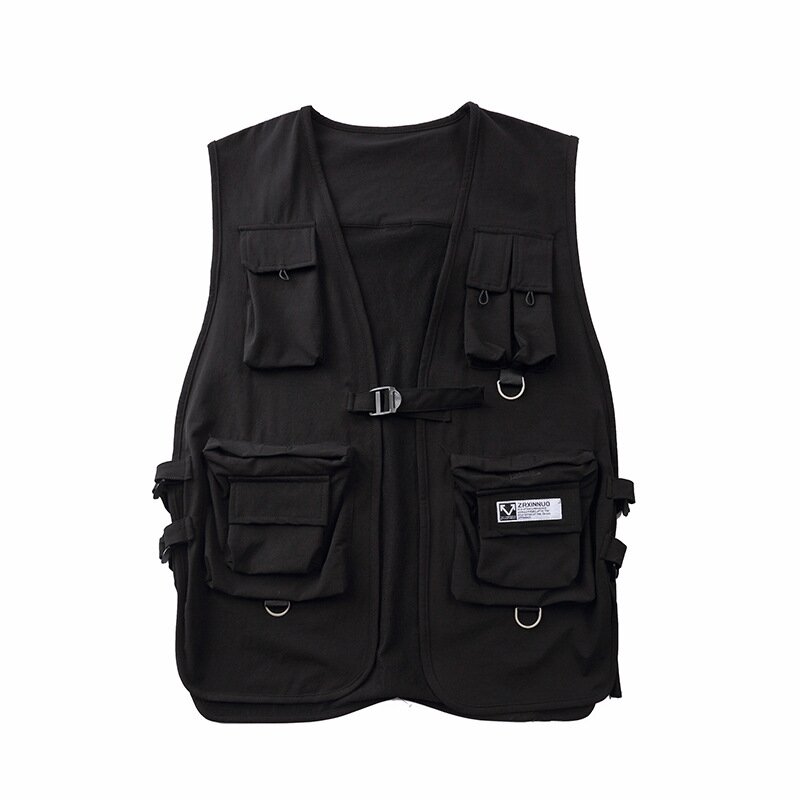 Young street fashion incorporates a strong Cyberpunk style, and the distinctive design concept is both functional and fashionable. The techwear style conveyed to us the sense of futuristic and technology has gradually become the focus of more and more people. As the weather begins to cool down, this techwear style that has a wide range of accessories and strong functionality is most suitable for autumn and winter.