Exactly How To Style Techwear Look During the Heat Summer
Jul 30, 2021
·
by Techwear Club
The popularity of urban streetwear began in the '90s when fashion-conscious men and women started wearing baggy clothing. Back then, when someone wanted to remain comfortable while maintaining his casual style, he chose urban streetwear to carry the look.
Streetwear styling was all about hooded jumpers, loosely fitted jackets, and loose-fitted shorts.
Nowadays, techwear has become the ultimate choice for young adults as casual wear. Techwear is a thing of winter. It keeps you cozy and comfortable because of its loose fit and multiple layers. However, techwear cargo pants and techwear shorts can prove to be pretty functional in summers as well.
What is techwear?
Techwear is the apparel of the future. It is the urban street style clothing that provides amazing utility and style. As the name depicts, techwear is technical clothing that is made from special fabric technology.
Cheap techwear makes your life easier by allowing you to stay dry with the water-resistant capability. You can find several different brands offering you the convenience of techwear clothing suitable for your casual style.
Appealing and attractive urban streetwear
Techwear prioritizes utility and amazing functionality with weatherproof fabric construction. With minimalistic designs, techwear clothing favors neutral colors like black, grey, and brown.
Techwear consists of different modern clothing items that are suitable to deal with harsh weather conditions. The fabric is able to withstand different elements of nature. Not a single drop of water can damage the techwear you wear. It is lightweight and durable.
Nowadays millennials are attracted to clothing that seems practical and functional. Summer techwear is truly a versatile piece of clothing that is aesthetically designed to deal with the elements of city life. I find techwear clothing quite useful and practical to wear on a casual walk and a long day in summer. It keeps me cool and stylish.
A touch of techwear to your outfit
You can either choose to wear stylish techwear from head to toe as a uniform or you can simply add a touch of techwear. The choice is yours.
It depends on what makes you feel comfortable. You can add a futuristic feel to your outfit by wearing a techwear jacket. A techwear t-shirt looks quite appealing in summers. You can wear it with a casual pair of pants or you can opt for wearing techwear pants.
Heat-trapping layers.
Technwear is a multiple-layer outfit. This does not mean that you cannot carry it well in the summers. Techwear outwear is also made from heat-trapping fabric which keeps you cool in summers.
Make sure that you wear don't opt for wearing heavy-layered clothing in summers. Always keep the heat-resistant layers on the top. You can wear bulky pants with multiple pockets but avoid wearing a bulky top in summers. You can choose all-weather techwear clothing that is suitable to wear all year round.
Getting the techwear look in summers
You might think wearing techwear in summers could be rough. The good news is that you can carry the techwear look in style even when the sun is scorching.
To get inspiration, you can check out the different tea=chwear outfits on Instagram. Different celebrities are wearing this casual outfit and beating the heat in the summers.
Yes, it is an outfit with multiple layers. You don't have to get confused about what to do with the layers. You can wear a techwear jacket and tie the layers around the waist.
Summerwear techwear includes breathable, lightweight, and Odor control fabric clothing that gives you the freedom to move.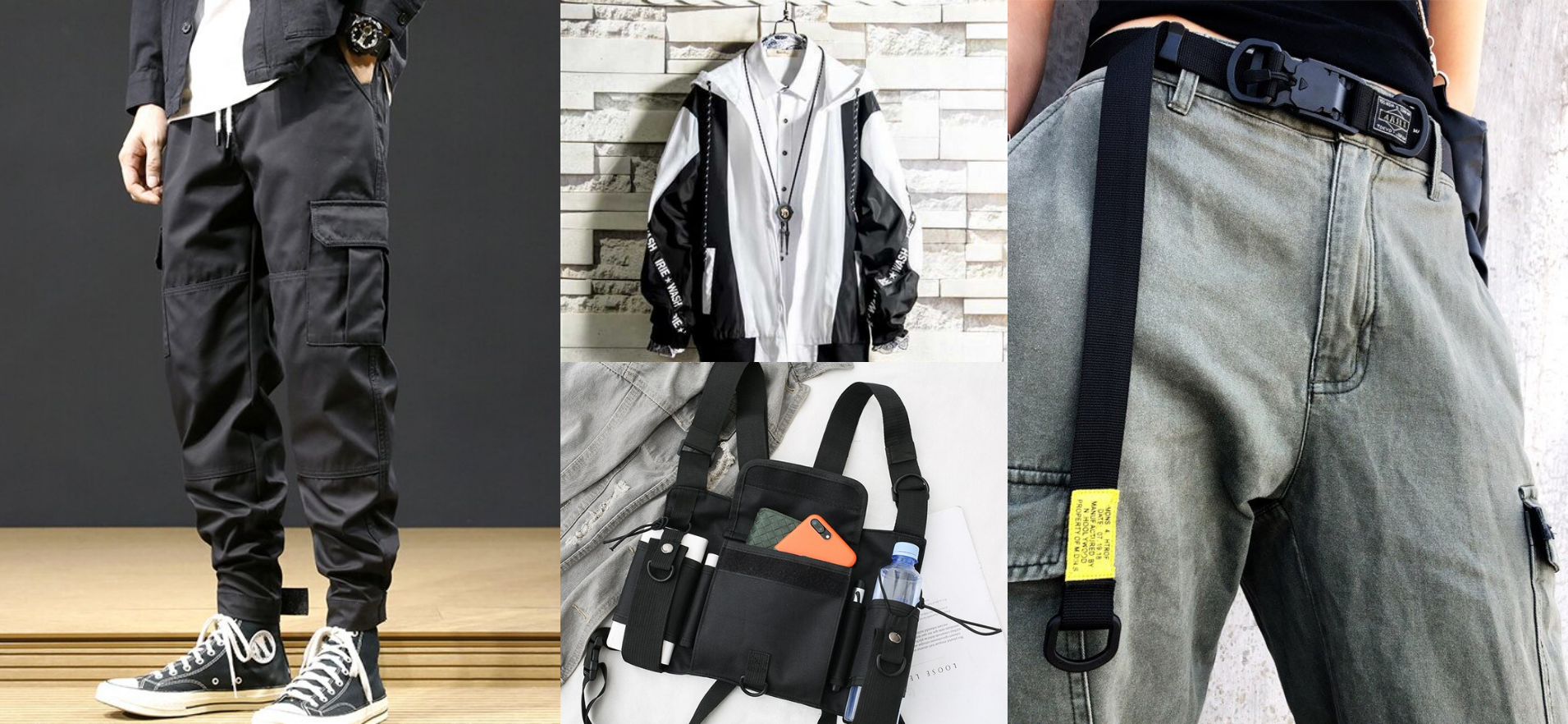 Loose fit Techwear keeps you cool.
It can be hard for you to dress up in the summers. It is difficult to weather to deal with. You can swap your usual summer clothes with loose-fit techwear to deal with the scorching heat of summer.
The summer season is the perfect time to wear loose-fit urban streetwear. The loose-fit techwear is breathable and moisture-wicking. You don't normally care about the breathability of the fabric if you don't have to deal with the summer season. In summers you want to wear something that circulates the air and keeps the sweat away.
Techwear for summers comes with comfort and style. Loose-fit does not have to be unattractive and baggy. You can still make a stylish fashion appearance no matter where you go wearing loose-fit techwear.
Carry out the casual look
Carrying a casual look does not have to look lazy and messy. You can still make a strong impact on the people around you even if you are wearing a casual outfit.
If you are looking for a casual look, techwear, urban streetwear is the best choice. Nowadays, there are a number of brands that are offering you high-class and affordable techwear outfits. They use high-quality materials which are specially designed for techwear clothing.
Conclusion:
Techwear clothing is not an ordinary kind of clothing. It comes with high features like multiple pockets, hidden vents, and layers.
Techwear outfits come with technical features which makes them different from ordinary clothes. You can carry an extraordinary casual look with techwear.
If you are a fashion-conscious individual, there must be a techwear clothing piece in your wardrobe that allows you to make you stand out. Techwear is ideal for a casual look. You can hang out with your friends and go for a walk on a summer day wearing breathable and durable techwear outfits.