Continuous Urban Techwear Style in Summer
Jul 30, 2021
·
by Techwear Club
Cause its multiple layers, many people think that techwear is only for winter. Actually, techwear isn't simply suitable for the winter, it's also available in summer. The special tech fabric of techwear is breathable enough to keep your temperate at a normal level. And you can pick up a pair of practical techwear shorts instead of cargo pants or trousers to make your summer look stay cool. Nowadays, it's a trend that more and more young adults pick urban techwear as normal as casual wear.
Techwear t-shirts and techwear shorts are the perfect fit to create a cool and futuristic sense during the summer season.
Continuous Urban Techwear Style in Summer
Confusing about how to style a techwear look during summertime? Check our techwear style collection, including techwear shorts, techwear shirts, which is the must-have techwear outfit for men in summer, Or have a view in our cool girl collection, from sexy techwear crop tops to cool techwear skirts, we've got you covered, continuous underground futuristic style even in the heat summer with Techwear Club.
Check out our techwear shorts collection, get the latest futuristic urban style. Techwear shorts are versatile outfits that can be adapted to all styles. From the grunge model to the streetwear or sportswear model, the techwear shorts are a must-have in your wardrobe.
High-tech Fabrics for Techwear Shorts
Techwear, as the name suggests, is often crafted from high-tech materials, windproof, waterproof, breathable and durable is often shown in techwear clothing.
In order to bring a more comfortable wearing experience, our techwear shorts are made of premium breathable and durable technical materials that are highly resistant and lightweight to wear. With high-end cutting and exquisite details such as multi-pockets, streamers and buckles decoration, our techwear shorts have earned plenty of good reviews from worldwide customers.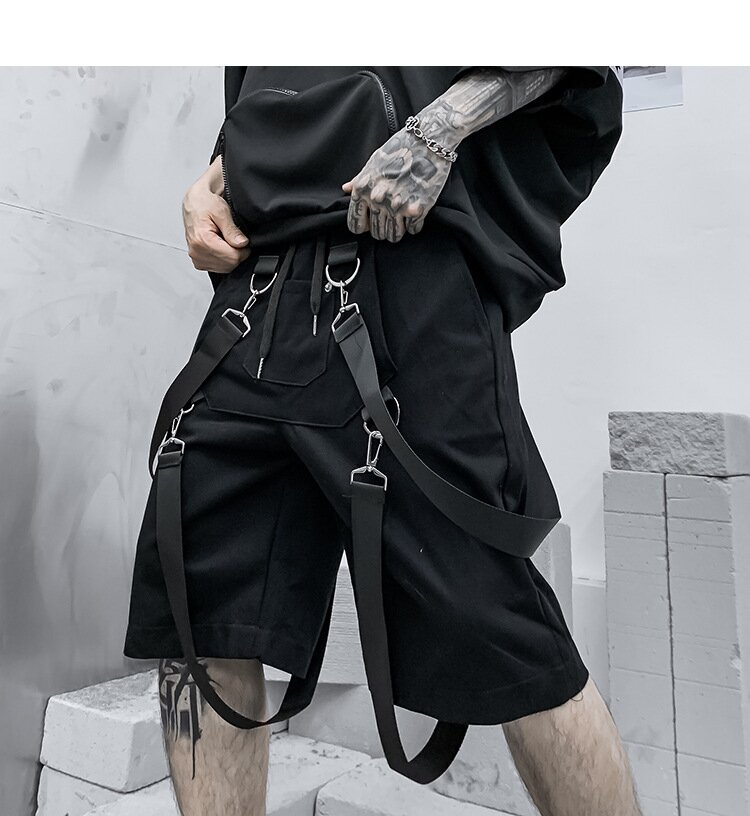 Elastic Black Cyberpunk Techwear Short With Straps
With multiple 3d or hidden pockets designs on the side or front, our techwear shorts have a large capacity to carry your phone, small items and tools, and even all your belongings. Upgrade your summer look with the essentials techwear shorts, match with a pair of cool techwear sneakers and techwear socks to complete your urban techwear look.
Keep your summer look in style with this pair of short techwear cargo pants, which is crafted from breathable and quick-dry fabrics, this pair of black cargo shorts is a must-have to complete your techwear look during the hot and rainy season. with multi pockets and streamers, these shorts are both stylish and tactical to wear.

Functional Techwear Shorts With Multi-pockets
Durable and robust, with 6 storage pockets, four 3d pockets on the front and back, two hidden flap pockets with zippers on the side, this pair of tactical cargo pants with a large capacity that can easily hold your wallet, phone and other essentials. The elastic waistband allows an adjustment to your morphology, offers good comfort and convenience. Decorated with two straps on both sides of the shorts to reinforce an urban techwear style. This pair of functional techwear shorts can be comfortably worn in summer.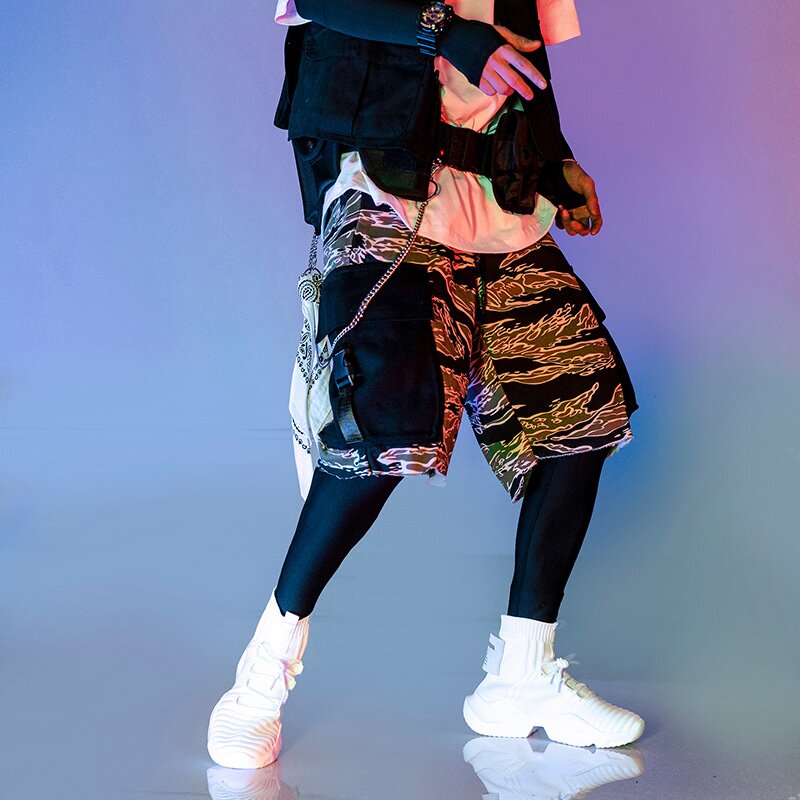 Tactical Camo theme Shorts With Buckles
Keep an urban techwear style in summer with this pair of camouflage scheme techwear shorts. The elastic waistband can perfectly fit your body and maximize comfort and convenience. Multi-pockets designs with cool straps and buckles decorations are reminiscent of techwear cargo pants. Made from durable and lightweight materials, it's guaranteed to provide maximum comfort during the heat summertime while adding the finishing touch to your street look.
Flaunt a fashion-forward look with these urban tech wear shorts that are perfect to complement your techwear style and spend a summer in style. Discover our selection of techwear shorts for an underground and cool techwear look.