Finalize Your Cool Girl Style With Techwear
Aug 12, 2021
·
by Techwear Club
SUMMARY
As long as time does not stop, mankind will not stop fantasizing about the future. It is also in these fantasies, Techwear-a kind of futuristic outfit is born, Formed in literary works about the future, deeply influenced by cyberpunk culture, It is Techwear style.
At first, Techwear was mainly black, with gray, white, camouflage, and other similarly dark colors as auxiliary. Generally equipped with multiple pockets and long straps. After the sense of design has gradually strengthened, many designers have added individual and alternative design elements, letting fluorescent colors, metallic shiny texture fabrics, and other novel elements enhance the sense of technology and futuristic, and add a mysterious touch to the techwear.
Classic Features Of Techwear Style:
1. Cool
The dark techwear is already very cool and mysterious. With multiple pockets and some sci-fi-style designs, people seem to have traveled to the future and stand out from the crowd. Techwear fabric has a very strong texture, which is tough, durable, and is cool.
2. Unique
Techwear style focuses on the sense of science and technology, which is like integrating the character settings in a science fiction film into the style. The typical design with multiple pockets, the highly textured reflective fabric, and the relaxed and independent atmosphere make it unique in various designs. This iconic style makes everyone recognize its existence at a glance, very suitable for those who pursue individuality.
3. Casual
Because of the loose-fit designs of techwear, techwear is also a kind of casual clothing, but it has enough aura to overwhelm everything so that the two styles ( cool techwear and comfy casual style) collide fiercely and form a very special effect that can't be ignored.
4. Practical
Cause techwear always highlights the practical and larger capacity, techwear clothing is often featured with multiple pockets, you can put your mobile phone, tissues, keys, and all your belongings whatever you are going to climbing or adventure. If you are tired of satchels and handbags, you can choose a techwear bag. This kind of functional bag can make your activities more convenient.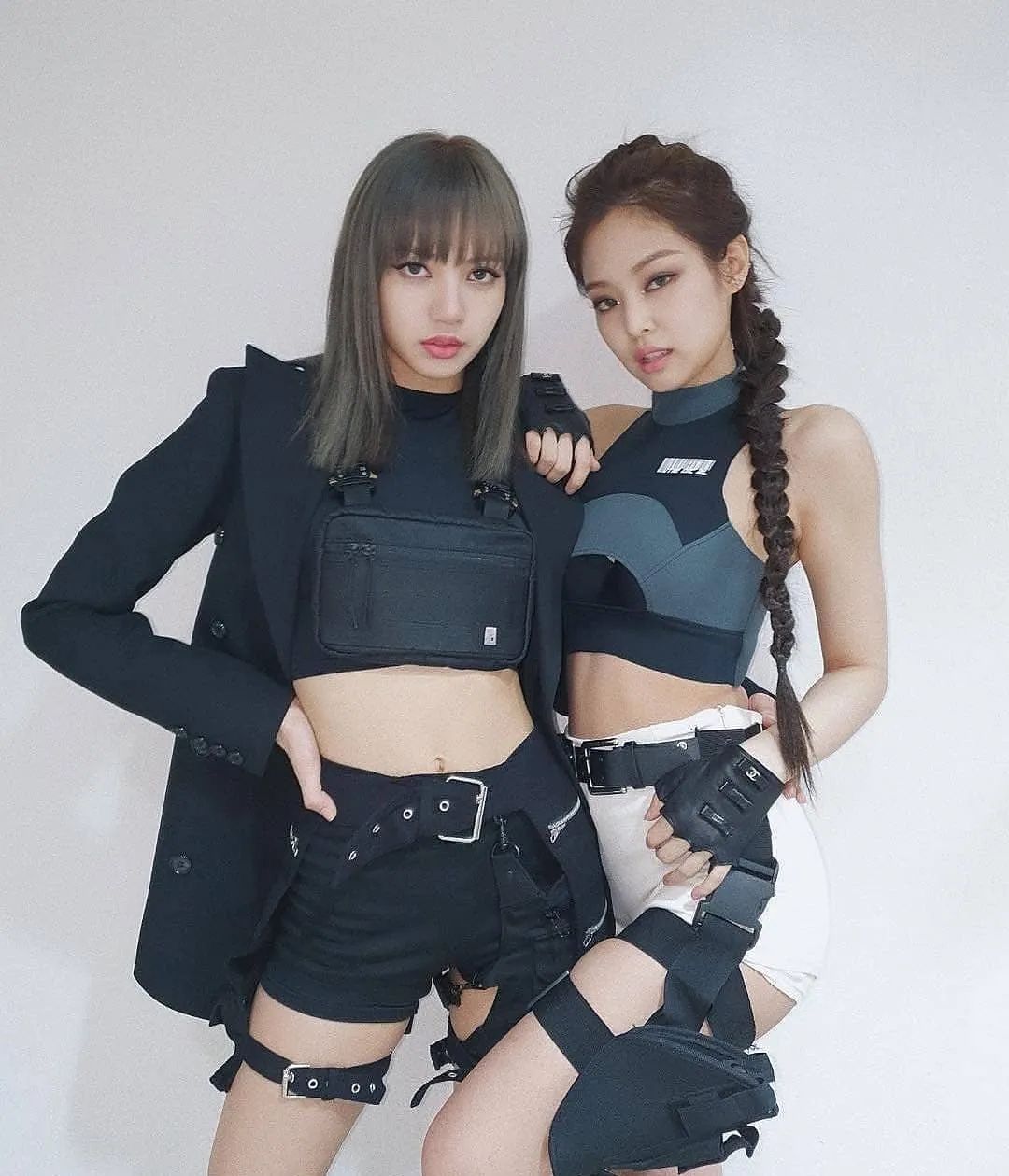 Summer Techwear Style For Cool Girls
With the attention of the designer, techwear is officially blown into the fashion circle and then brought to the ordinary lives by models and stars, and then more and more people see this novel and distinctive techwear clothing. Every star or model wearing techwear seems to have traveled from the future to complete the task of saving the world.
If in the hot summer, you are gradually disappointed with the style that you are accustomed to in your wardrobe, you may wish to change your style, follow the fashion's footsteps, and show your uniqueness in many fresh and casual collocations.
Recommended Techwear Essentials For Girls In Summer
1. Techwear Chest Rig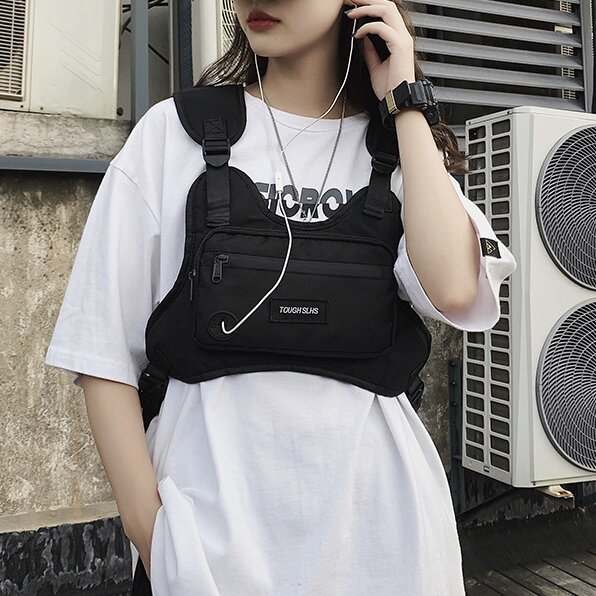 You can add a complete touch to level up your style with a piece of techwear vest, or adding layering to your whole look with a techwear chest rig. Lying on the upper body, a techwear chest bag can not only maintain cool techwear style in heat summer but also is a must-have techwear accessory to carry all your belongings. It is practical and can help to create a gothic ninja look, and also an ideal hands-free option.
2. Techwear Crop Tops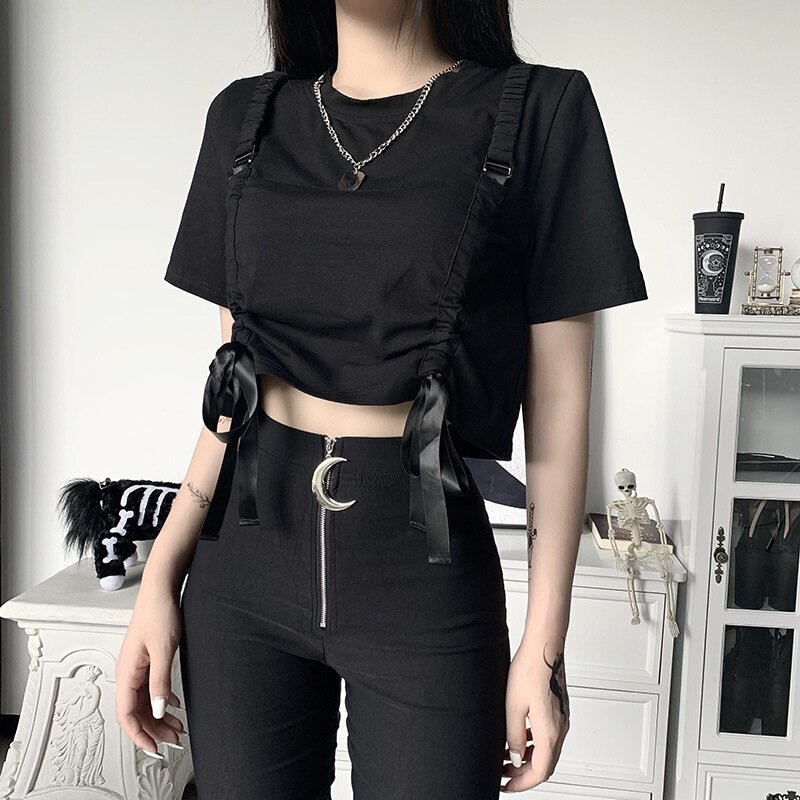 This black techwear crop top has two adjustable and knotted ribbons on the front. Inspired by cool dark wear and cyberpunk fashion, it's a perfect option to make your techwear look sexier. Wear it in summer with techwear cargo pants and boots for a unique and mysterious style. Complete your urban techwear wardrobe this season for an underground and futuristic look, you shouldn't miss this dark-style crop top.
3. Women's Techwear Pants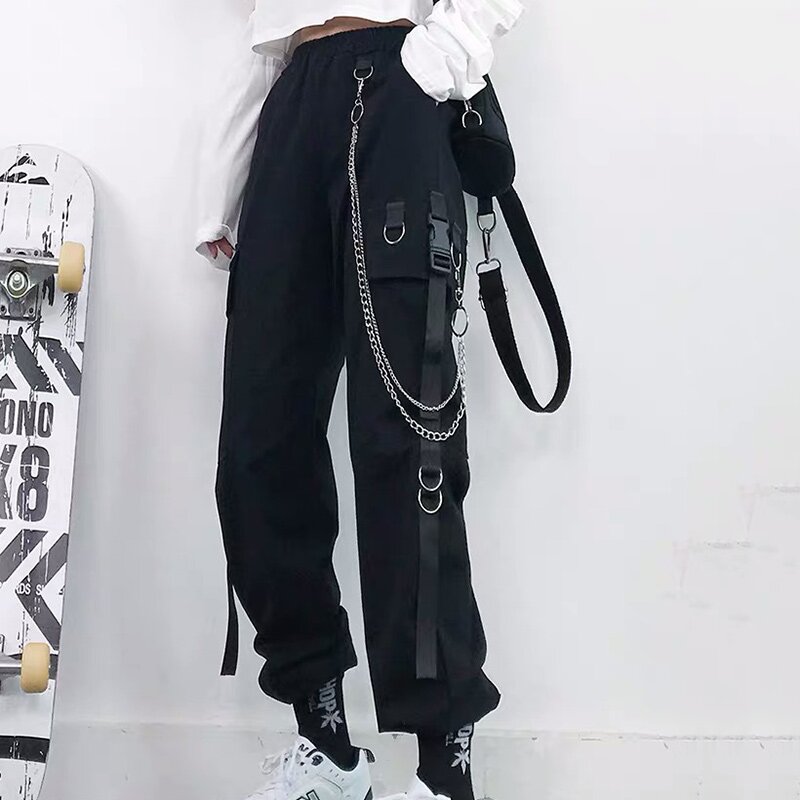 These Techwear pants combine with Gothic style and cool cyberpunk fashion. Decorated with metal chains, featured with classic techwear elements multi-pockets and long streamers, these dark-style pants are a must-have in your techwear wardrobe. Completing these techwear women's pants with black boots or sneakers and a piece of techwear crop top to finalize your cool-girl style.
4. Techwear Skirts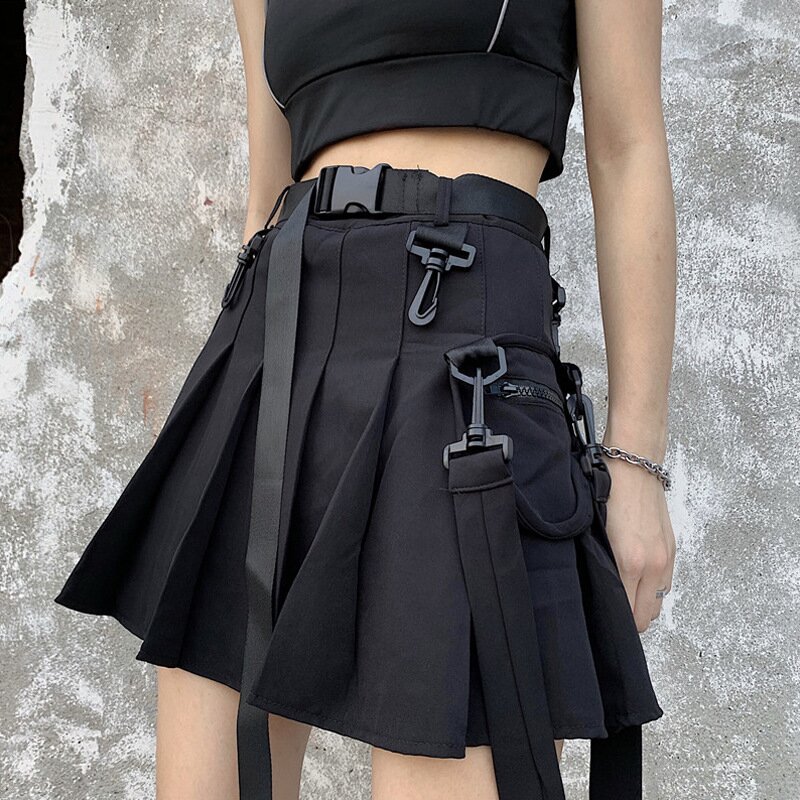 These techwear skirts can bring you the aura of futuristic and mystery. Stay cool in summer with the techwear dress. Pleated mini skirt with a built-in belt and straps for a cyber look. The skirt has a side pocket with a zipper to carry your essentials. With classic techwear elements- a buckle belt and a large strapped pocket on one side, this mini skirt is designed in an obviously dark aesthetic. You can wear this techwear skirt with a black crop top to complete a cool and sexy techwear look. Two colors are available: black and gray. These techwear dresses for women are crafted from premium soft and breathable fabrics to bring you the best comfy this summer. Combine with cool cyber fashion and dark gothic style, this techwear skirt will be your best pick for an all-black look that can't be unnoticed.
Conclusion:
The rise of techwear style has brought more choices. People gradually find a cool expression in casual wear. The reflective fabric, multi-pocket, typically black, and long streamers bring a different matching experience from the past, making more girls in costume try cool styles, highlighting their aura, which is a bolder way to choose. Techwear style satisfies ordinary people's fantasy of sci-fi works to a certain extent, allowing everyone to be in sci-fi works, become the protagonist of their own world, which is very suitable for people who are pursuing individuality.